Dead Simple Chat offers prebuilt Chat that can be added in minutes to any app or website. Can be completely customized and offers powerful API and SDK.
💡
Getting Chat on Screen in OBS is a very effective way to engage users across different platforms. In this article, we will look at different ways to add stream chat to the OBS studio platform.
You can add Twitch Stream Chat to OBS or you can also have your own private chat platform added to OBS Stream
There are many benefits of having your own chat like:
Customization : Completely customize the look and feel of chat
Moderation: Ban users, delete messages and Ban Bad Words
1-1 Chat: Chat 1-1 with your attendees
The Chat Platform to use is
DeadSimpleChat
is Dead Simple to add to your OBS Stream and has a Free Plan with all the features available to use.
Adding DeadSimpleChat to your OBS Stream follows the exact same steps as adding Stream Chat to your OBS Stream.
You can also use DeadSimpleChat for Virtual Event Chat and Live Streaming Chat solution
How to Get Chat on Stream OBS
How to add any chat box to OBS
Follow the below steps to add chat on Stream OBS:
Step 1: Get the Chat URL from the provider
The First step is to get the chat URL from the chat provider you can get this in the chat interface or if you are able to open the chat in a new window get the URL from the browser.
In this tutorial we will be using Dead Simple Chat which is a highly saleable chat solution, that can scale up to millions of concurrent users.
Signup for a free Dead Simple Chat account from here
Once's you have create a free account, create a chat room and open the chat room in a new window to copy the chat room url.
Follow the below steps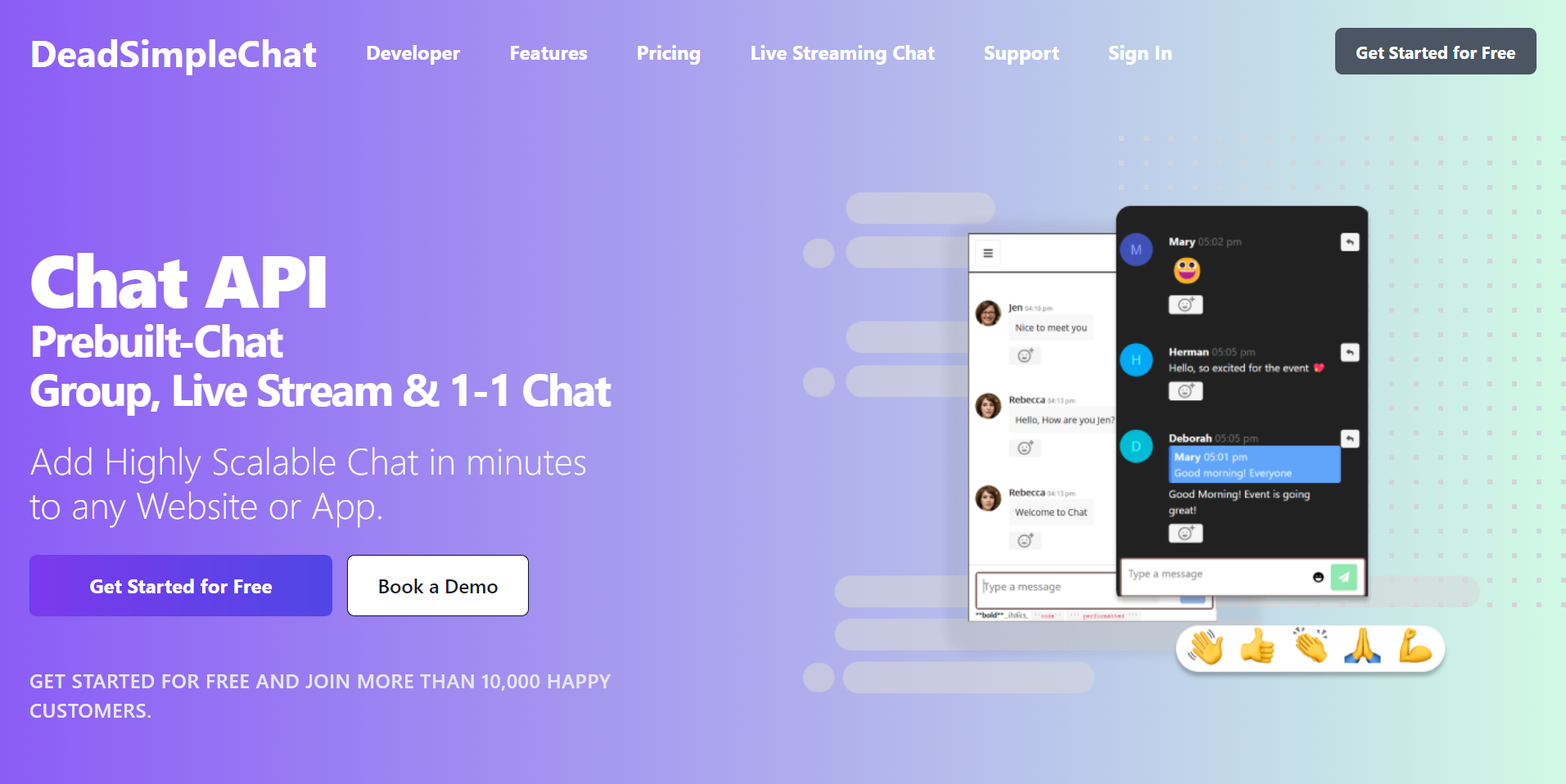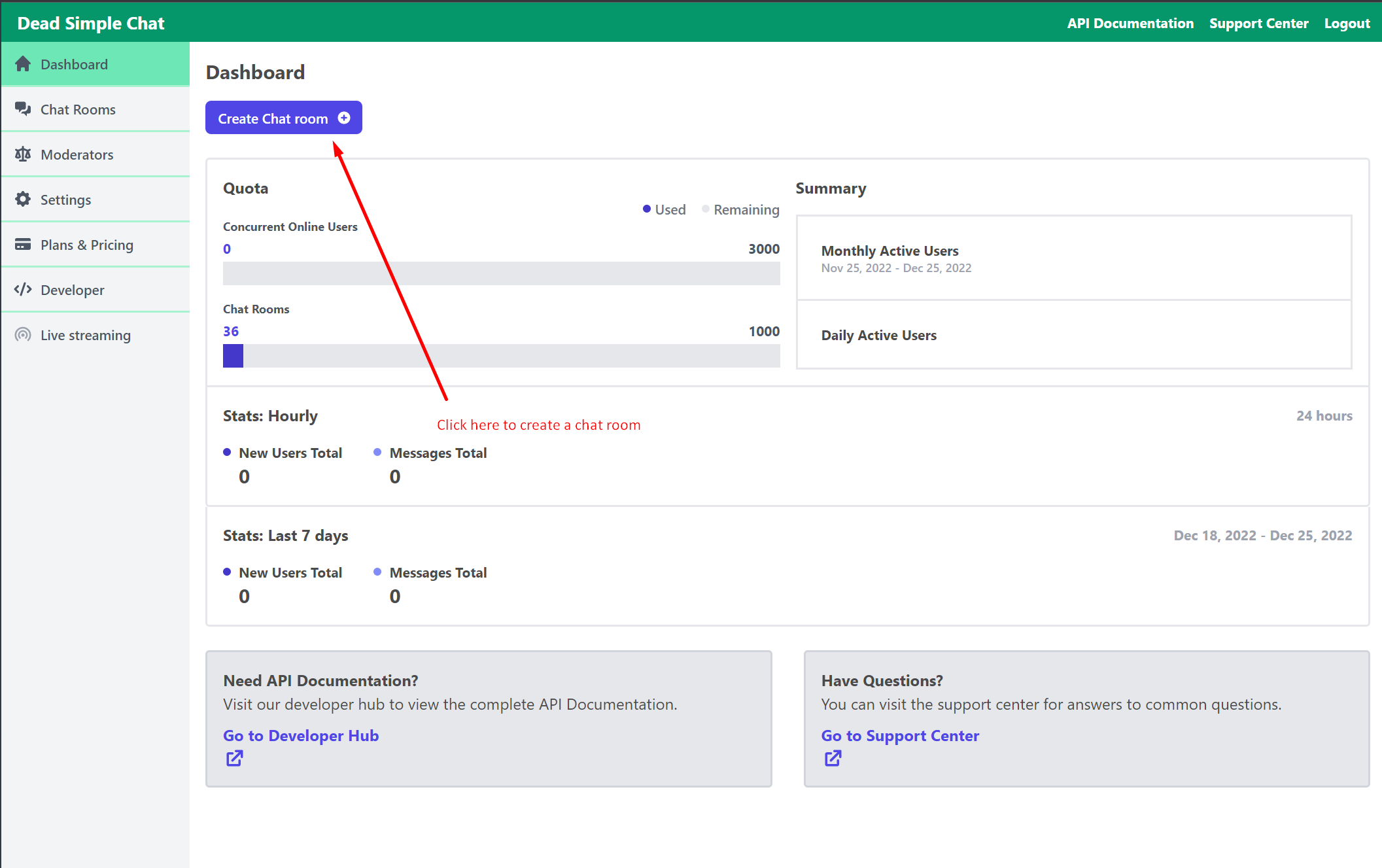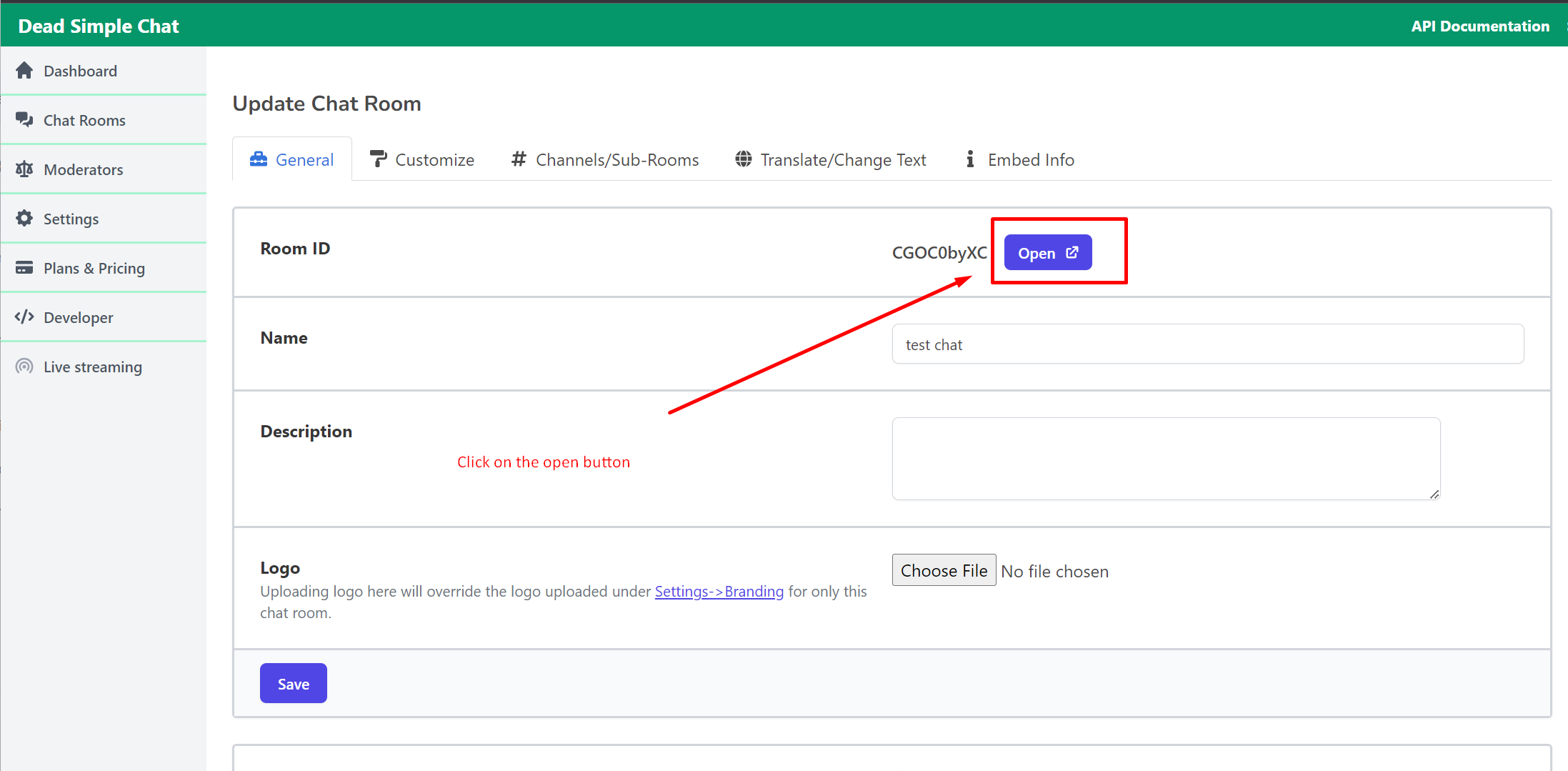 It will open the chat room in a new tab, copy the chat room URL, we will need it in the later steps.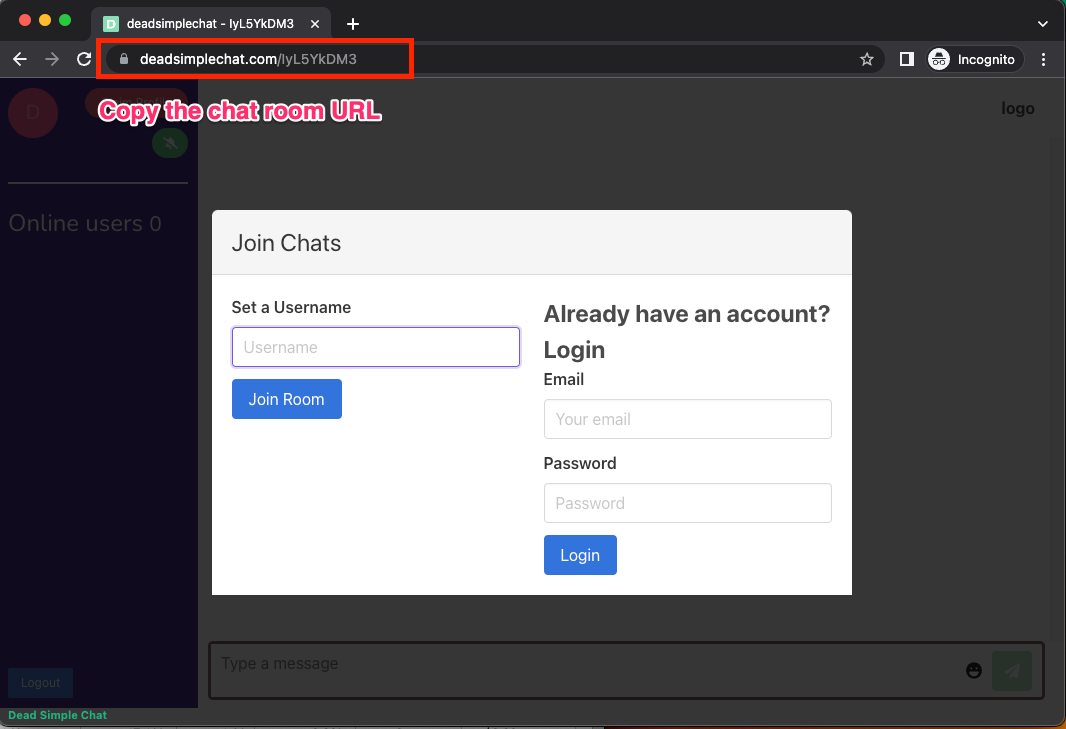 Step 2: Open the OBS and click on the "+" icon at the bottom of the OBS software as shown in the figure.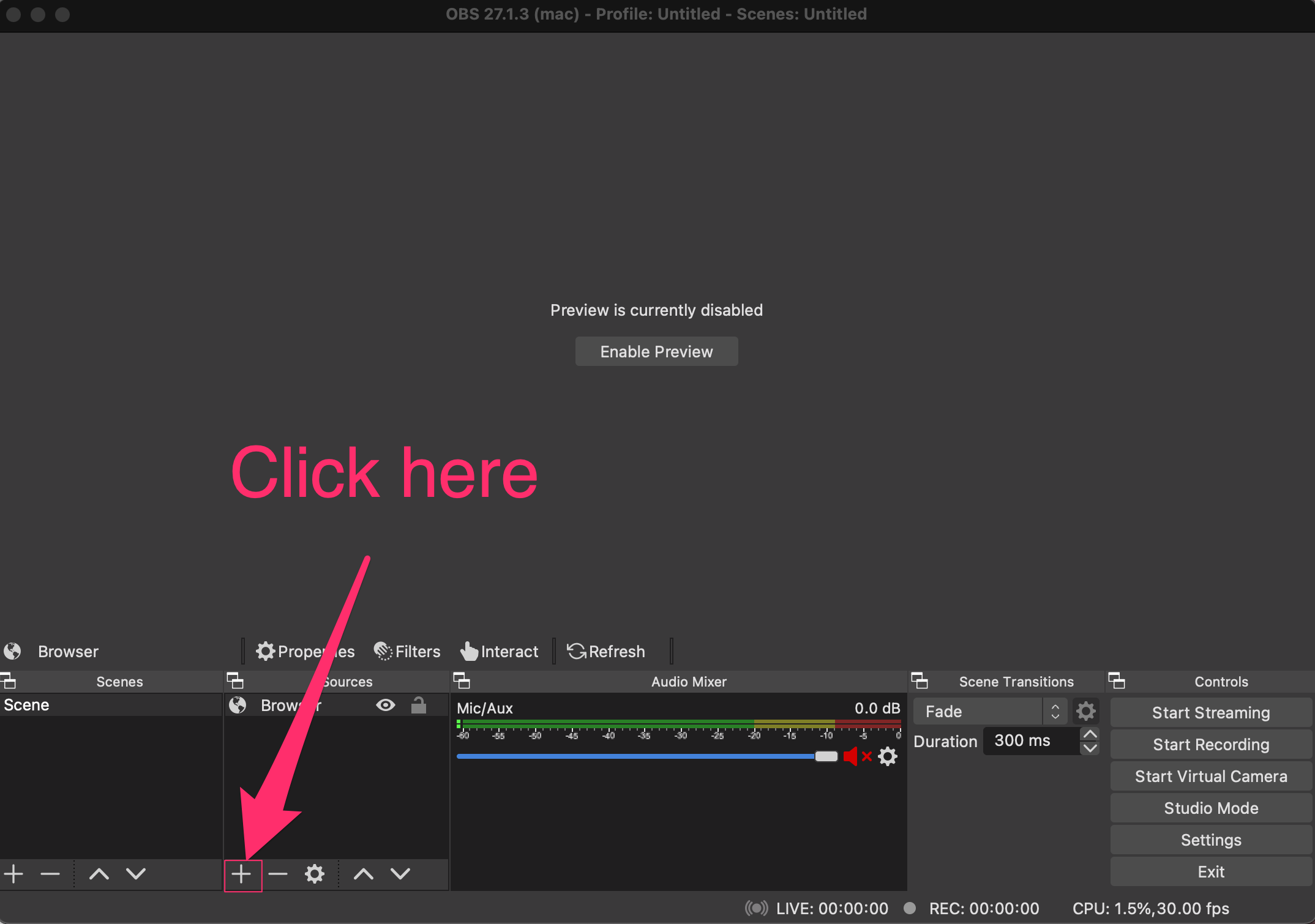 Step 3: Click on the browser button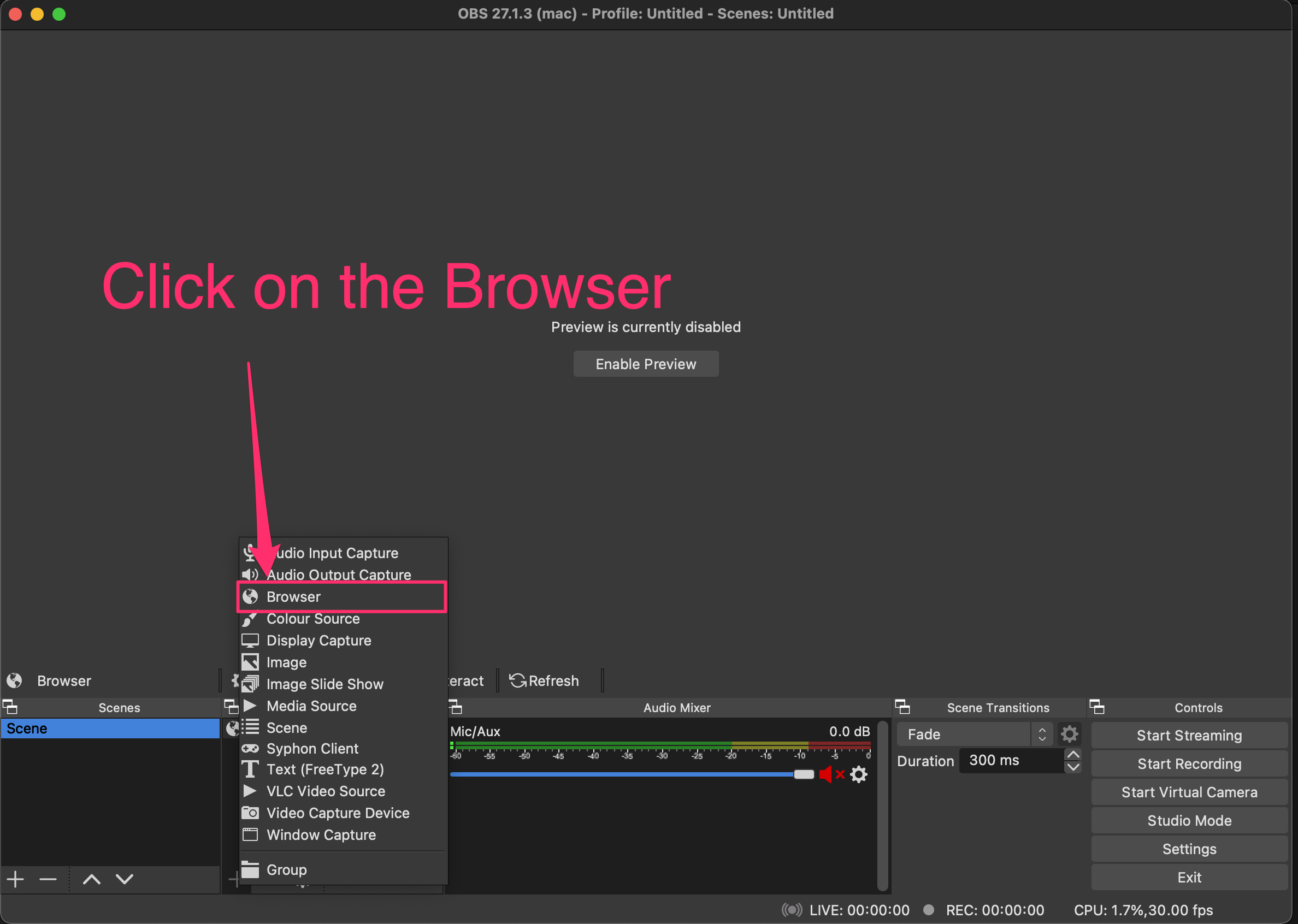 Step 4: Type a name for your chat and click on the 'OK' button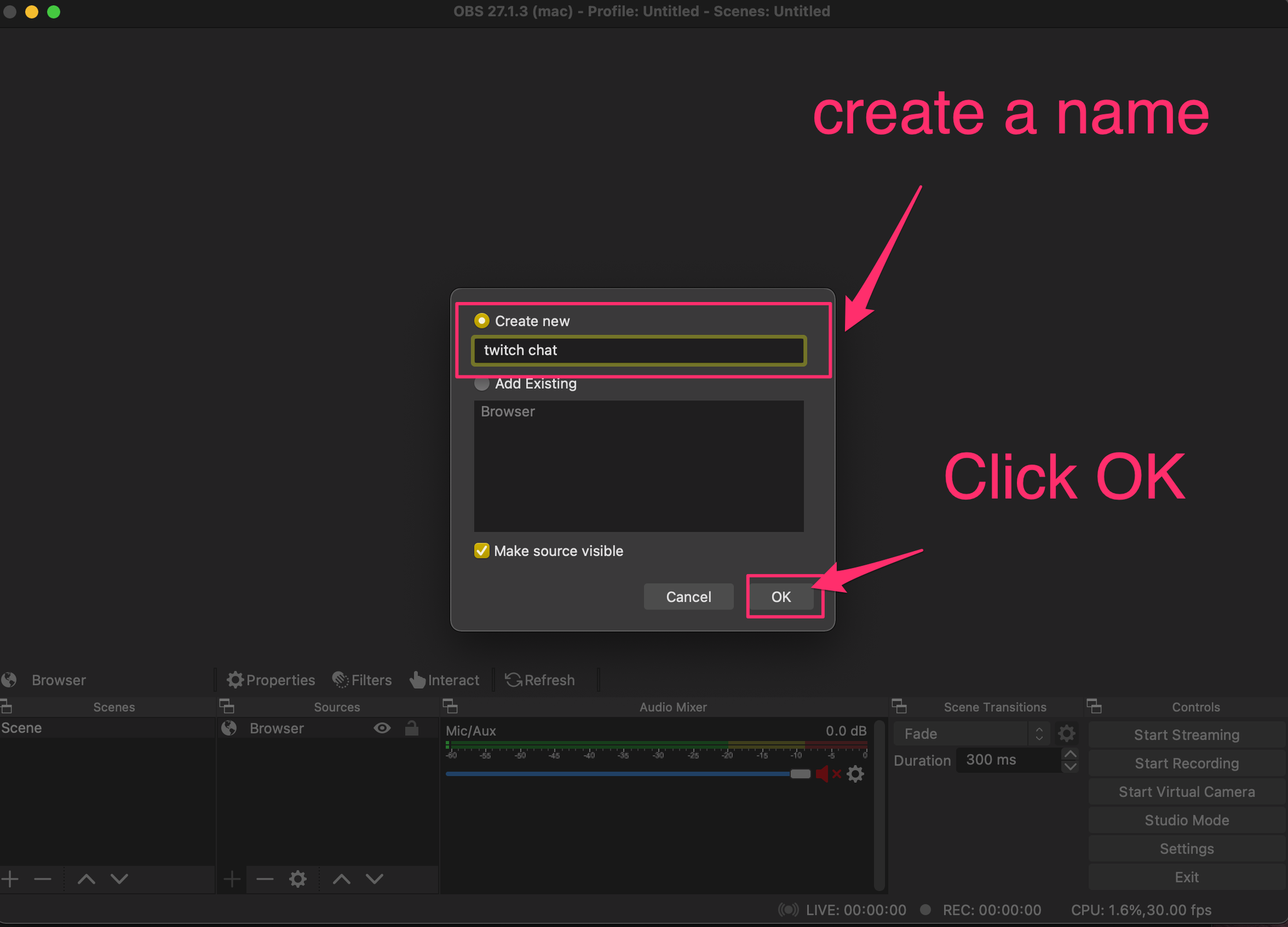 Step 5 : Add the chat URL that we have obtained from Step 1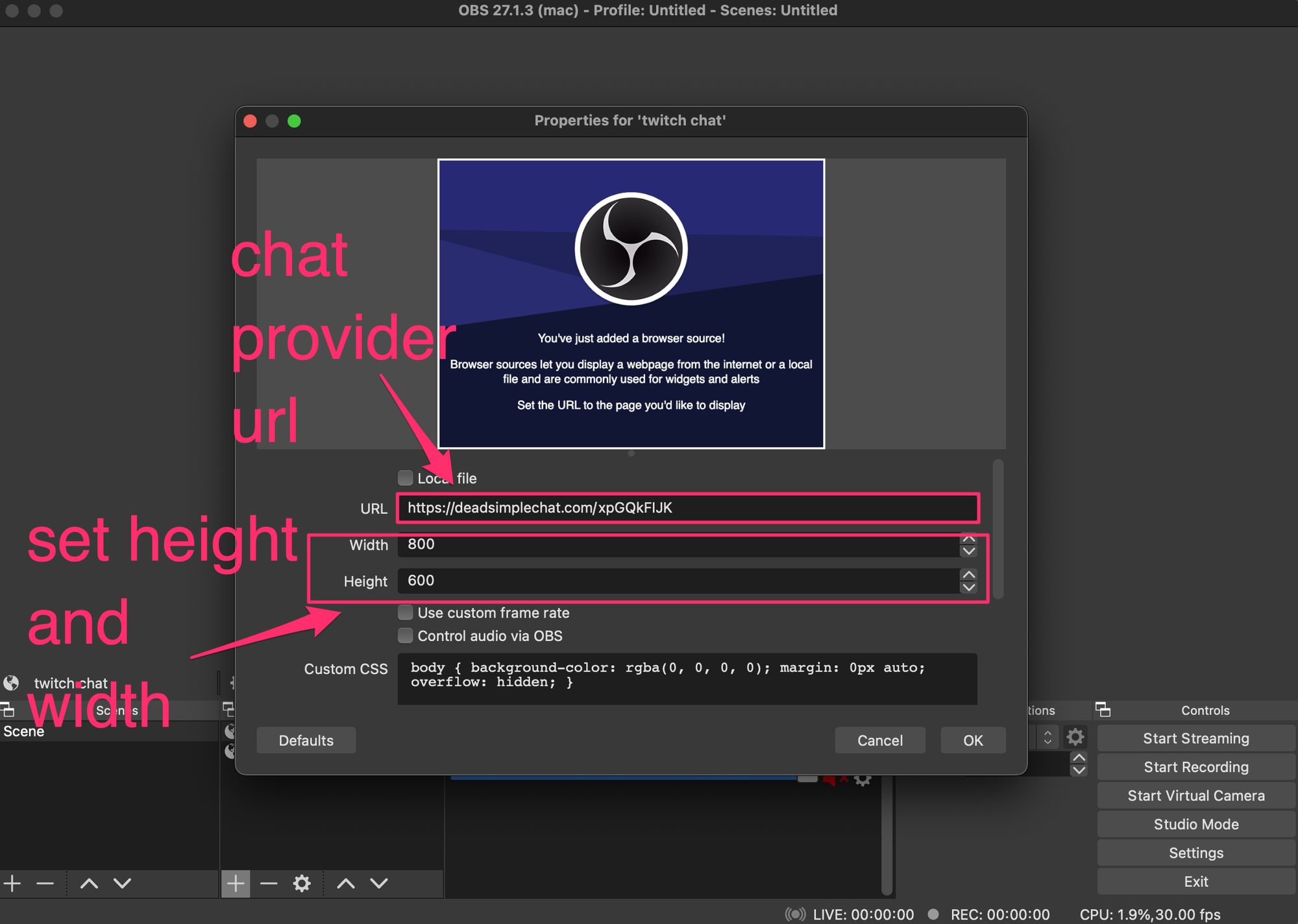 Step 6: Final Chat added to OBS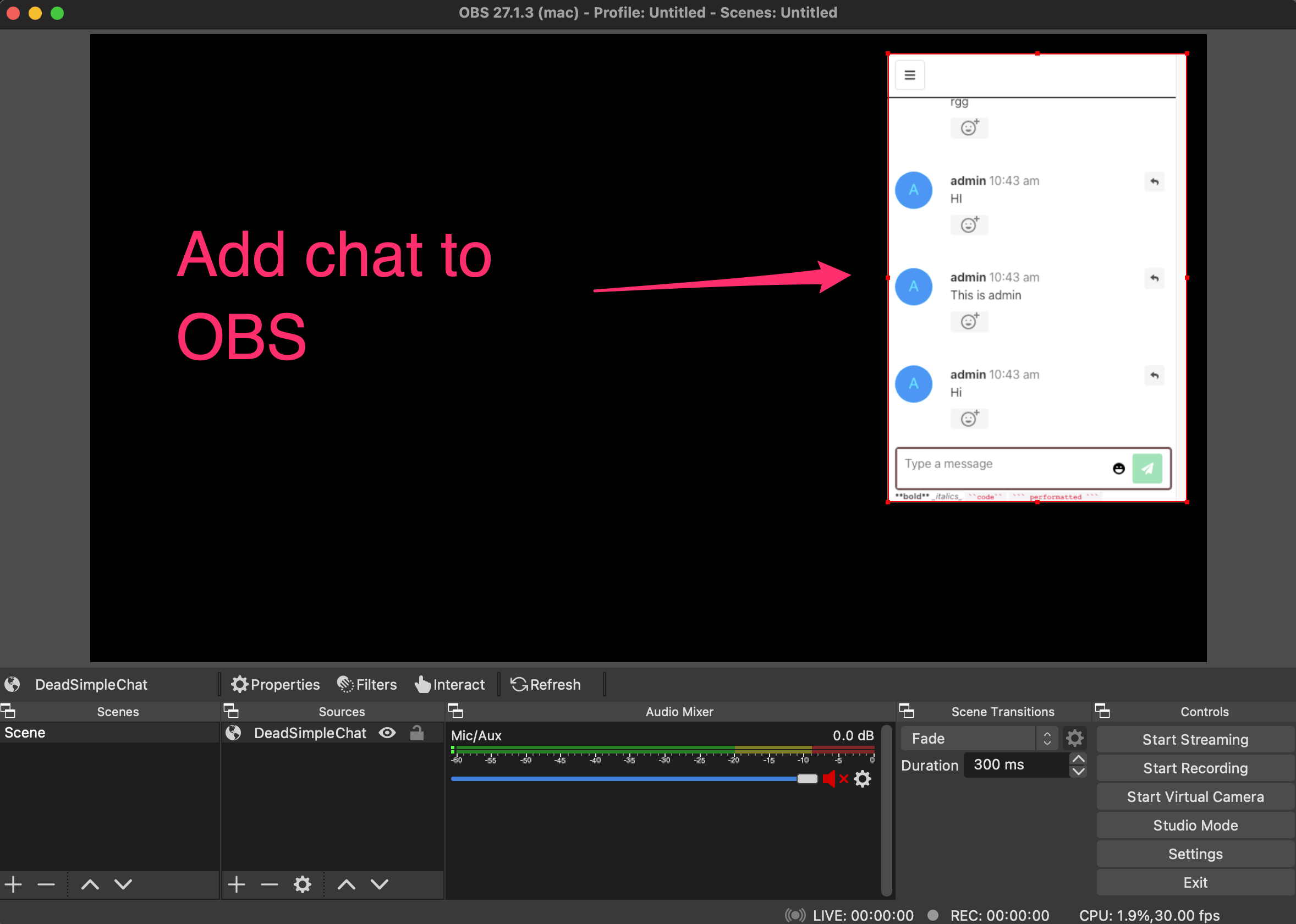 here is how adding stream chat to OBS is very easy to do.
---
How to Get Twitch Stream Chat box to OBS
Add Stream Chat to OBS (Twitch Chat)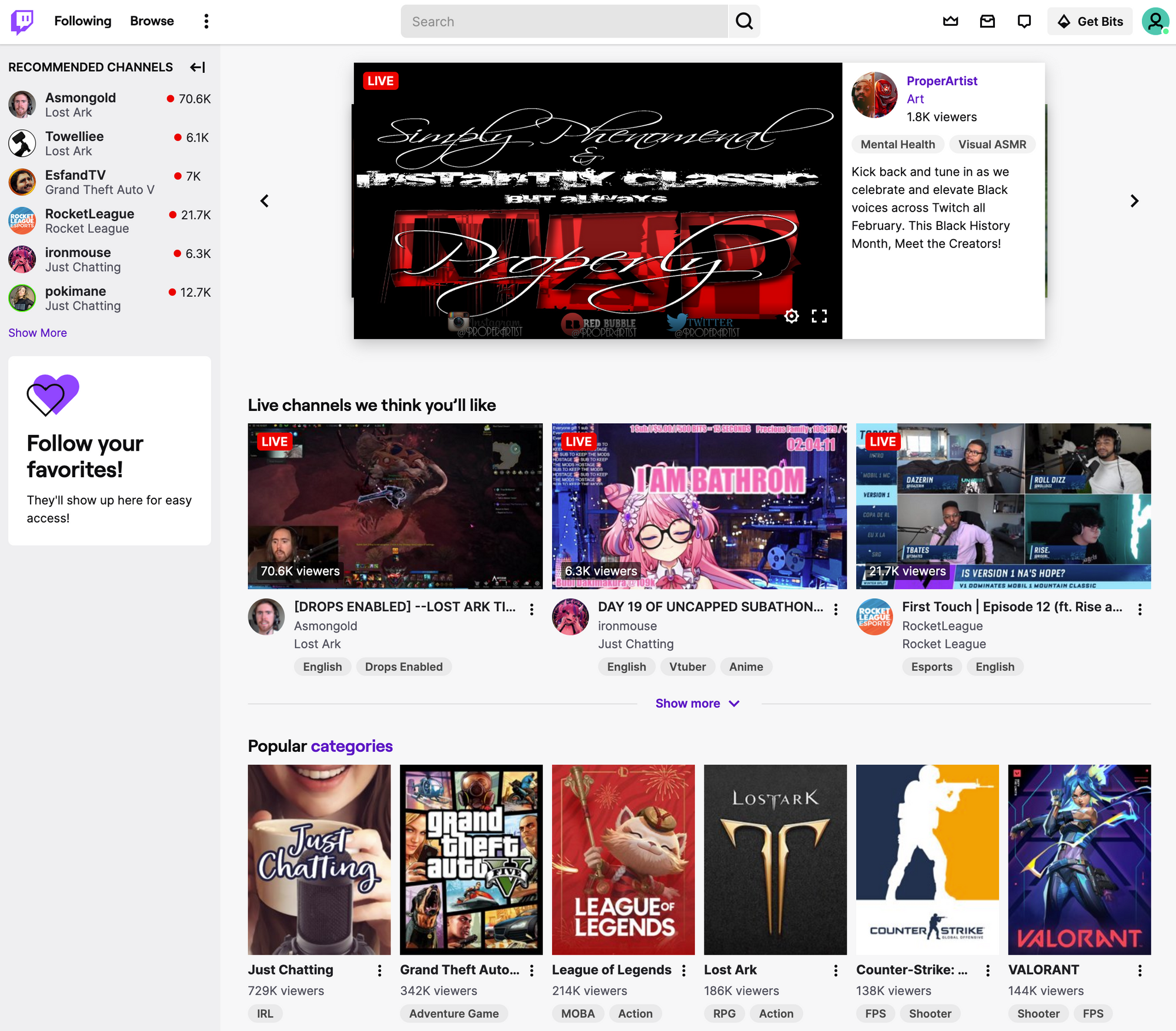 Adding twitch chat to your OBS Stream is quite simple.
Step 1: Login to your Twitch account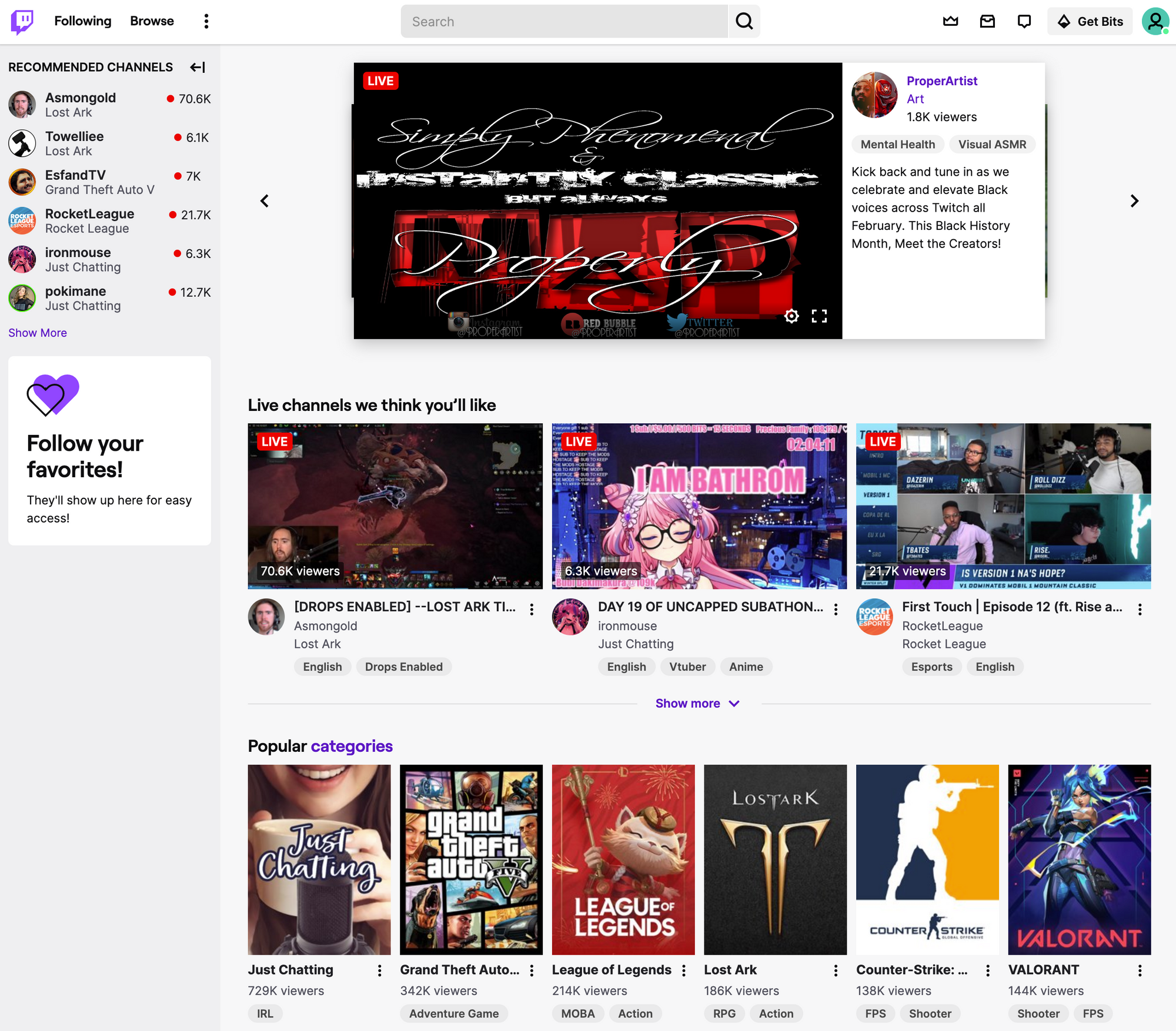 Step 2: Go to your channel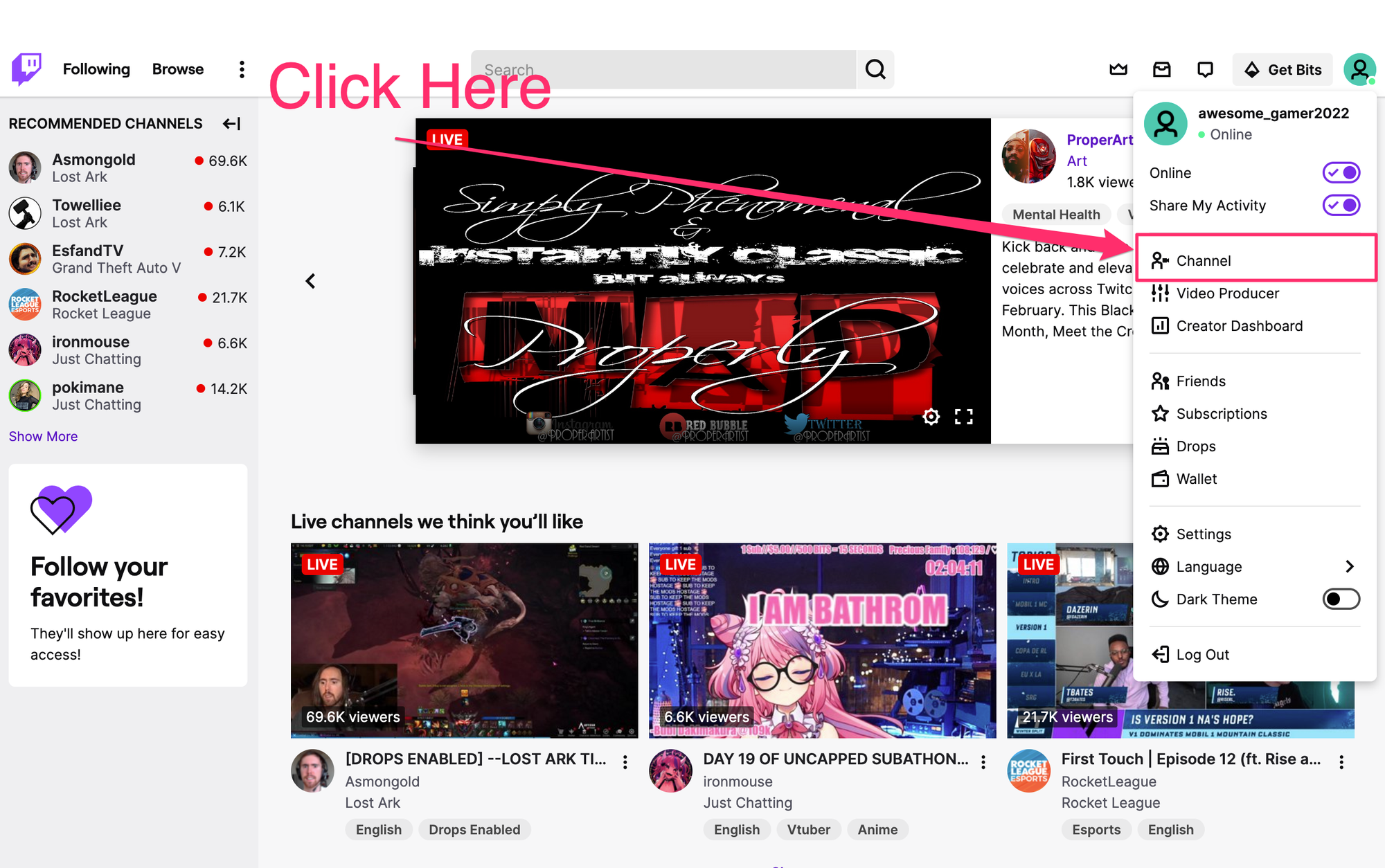 Step 3: Open the Stream Chat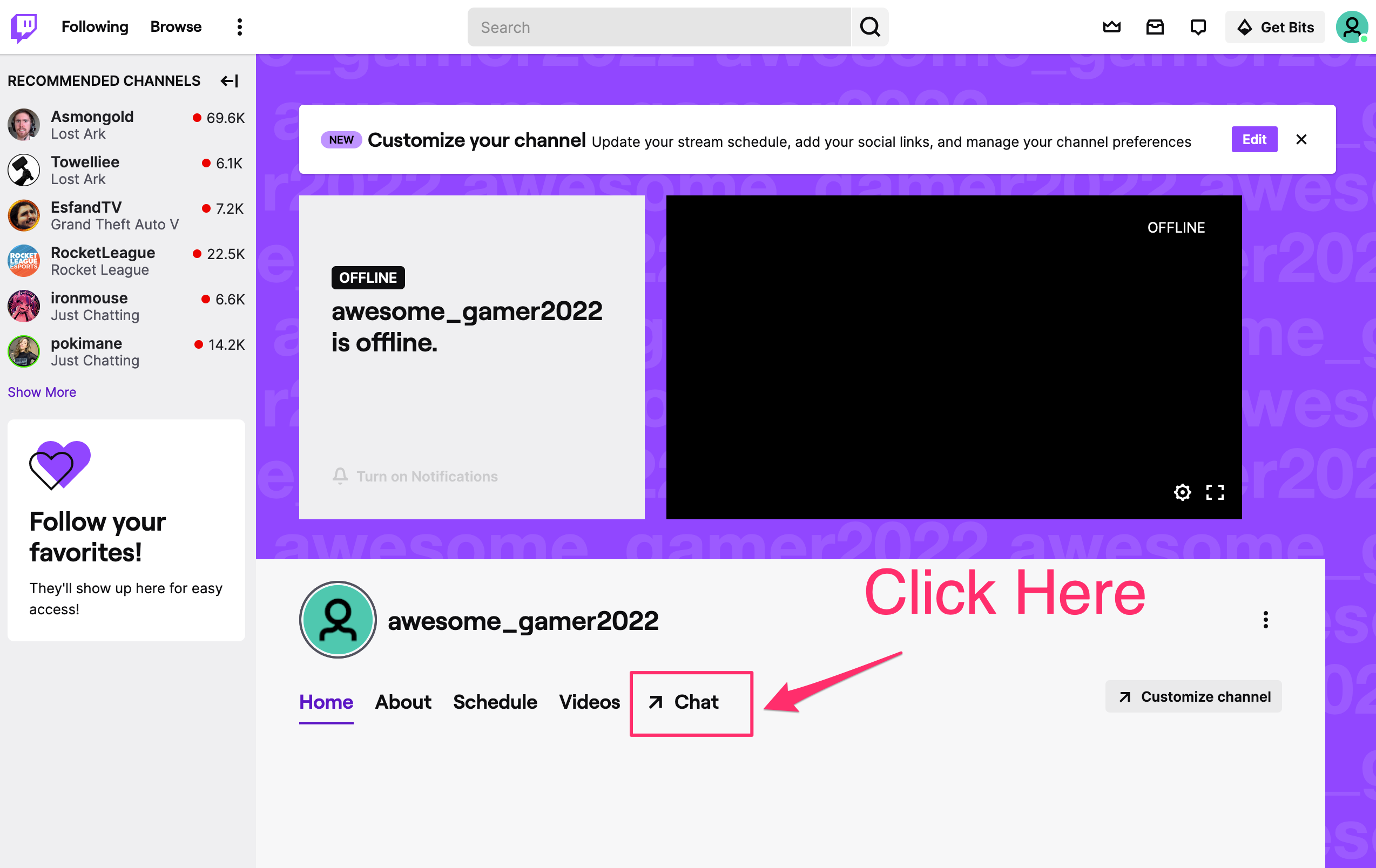 Step 4: Click on the settings button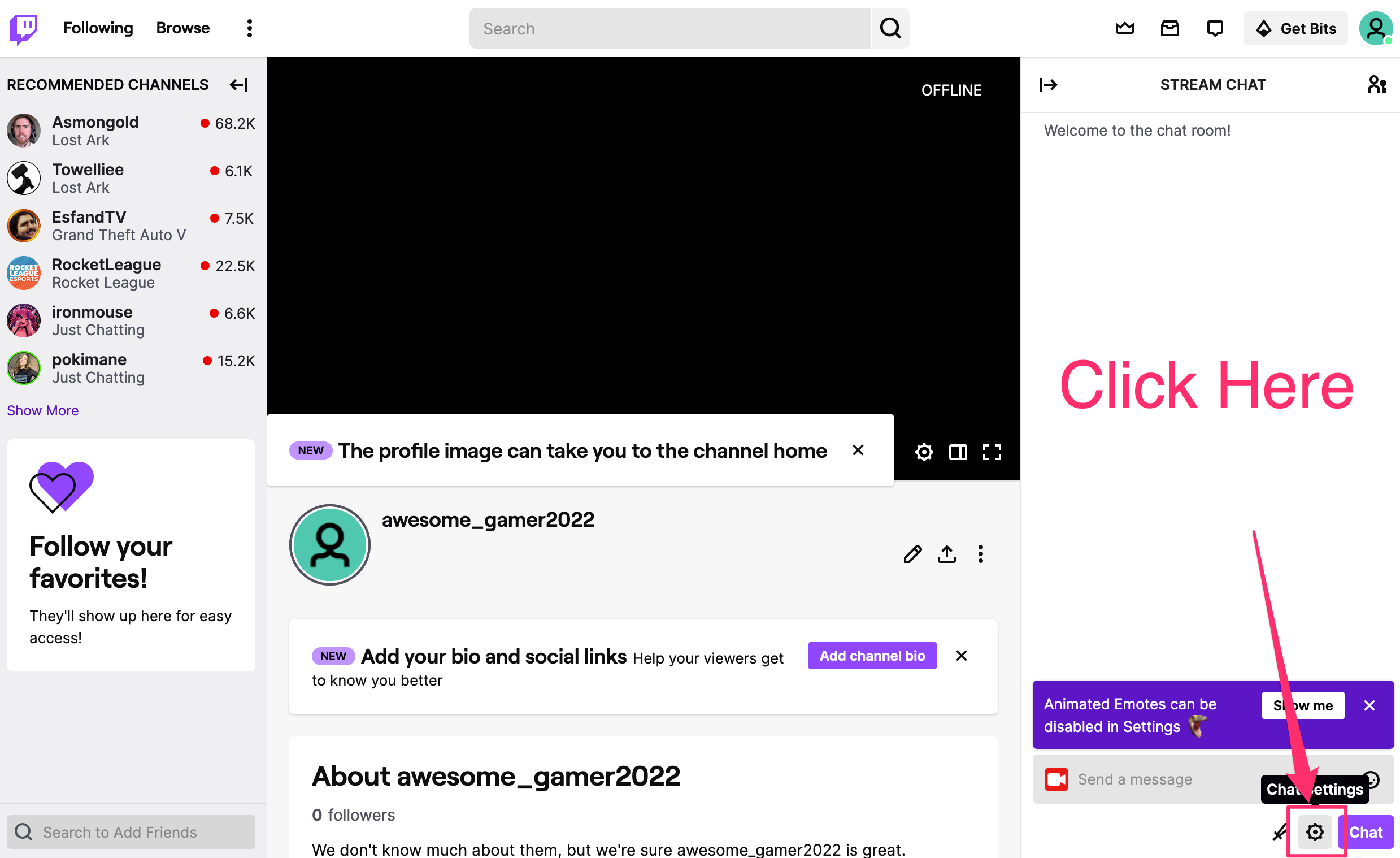 Step 5: Click on the pop out chat button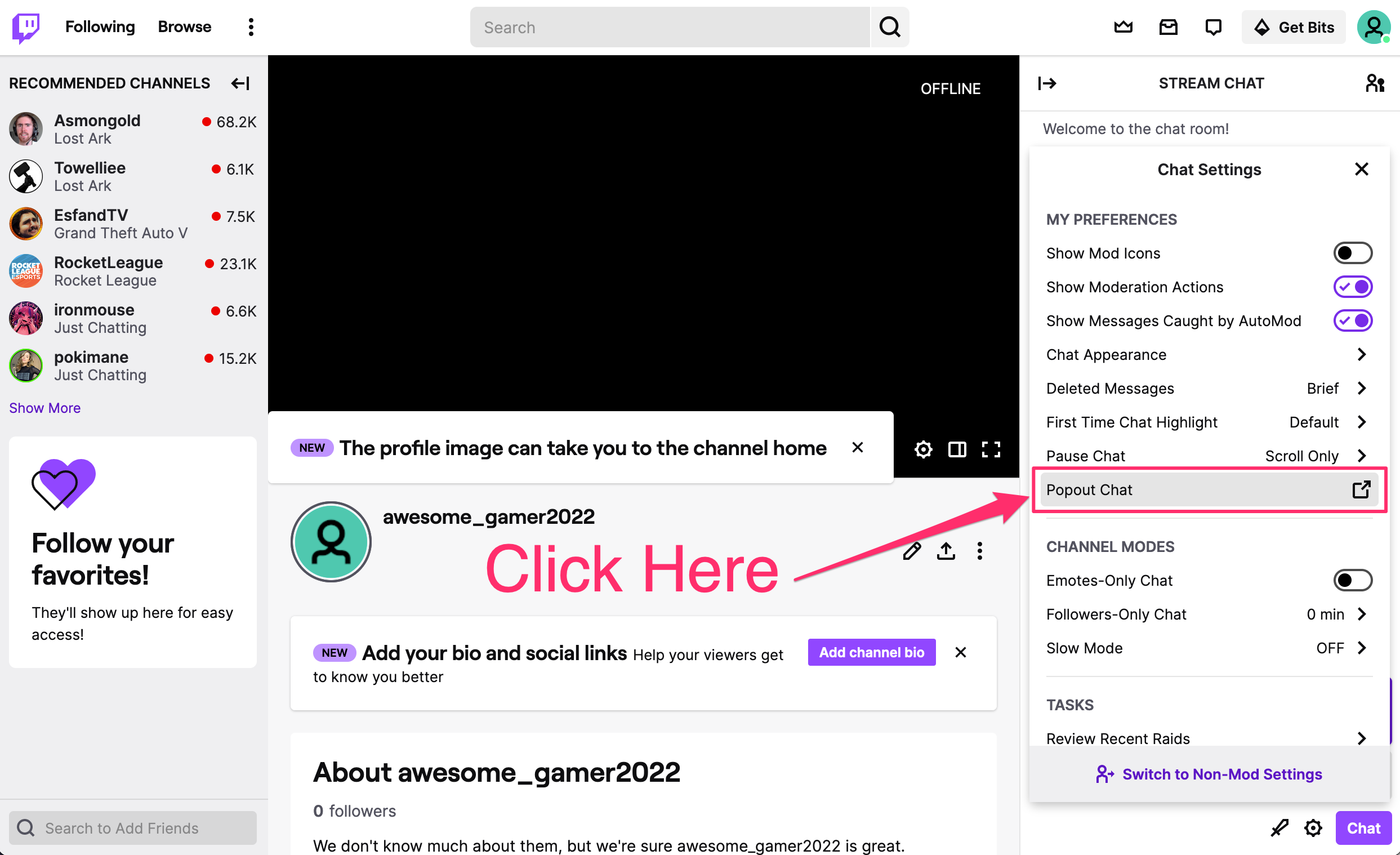 Step 6: Copy the URL from the pop out chat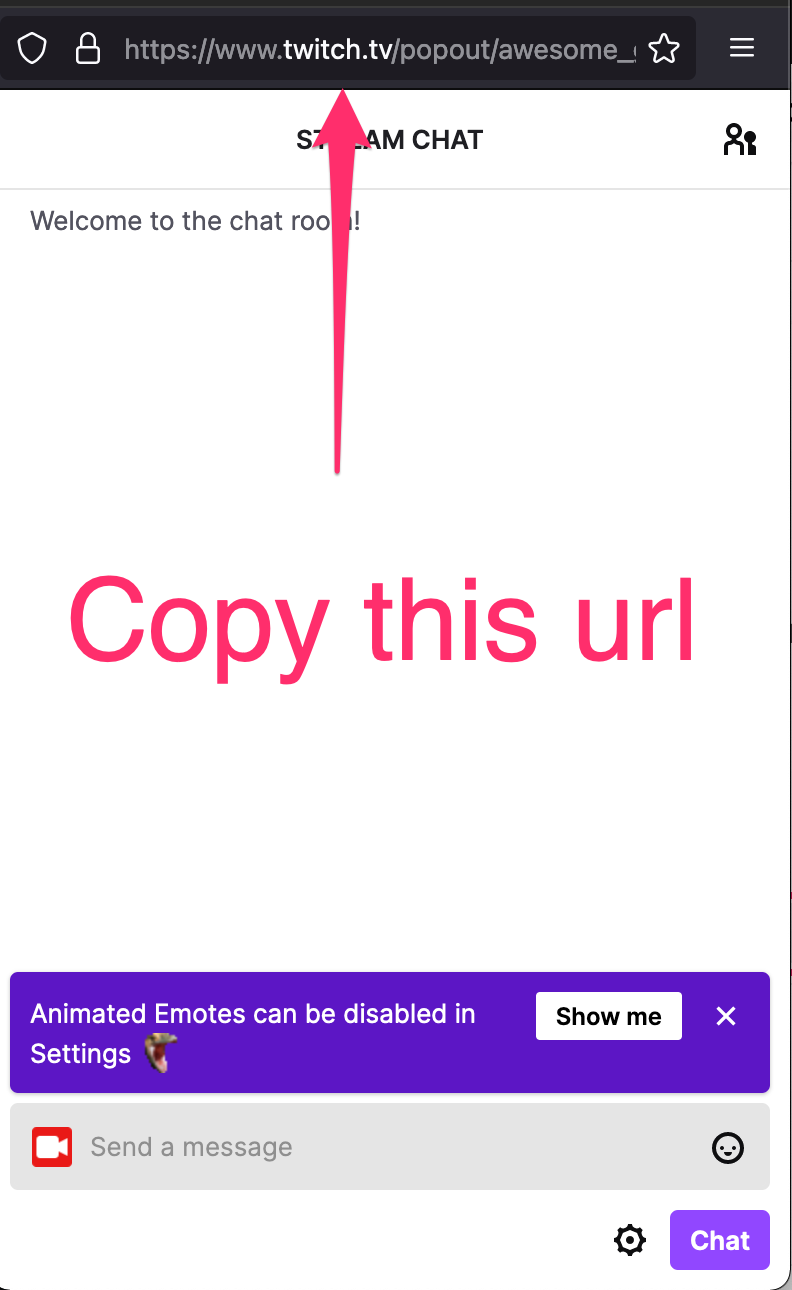 Step 7: Open your OBS Studio and click on the "+" icon on the bottom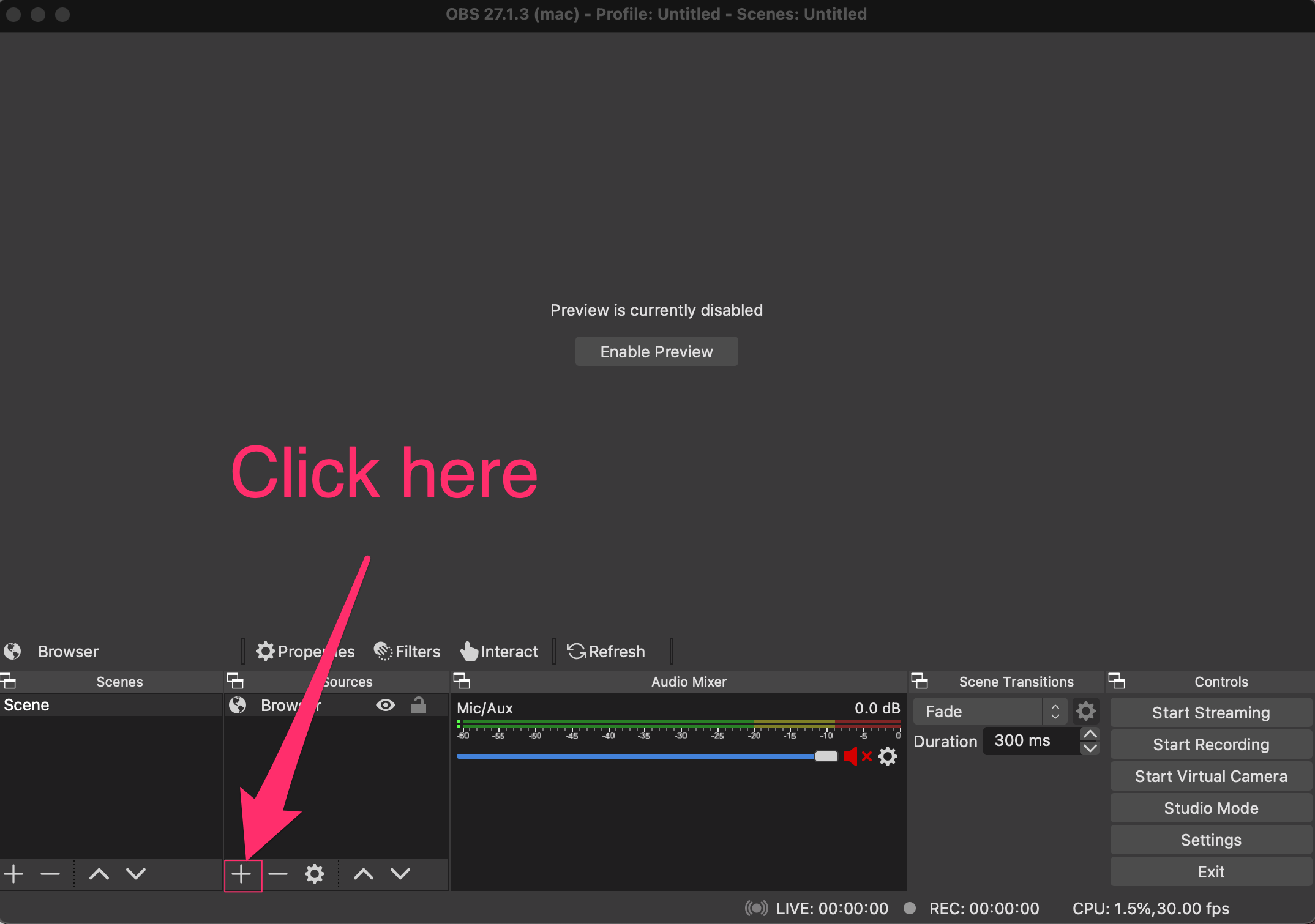 Step 9: select browser from the list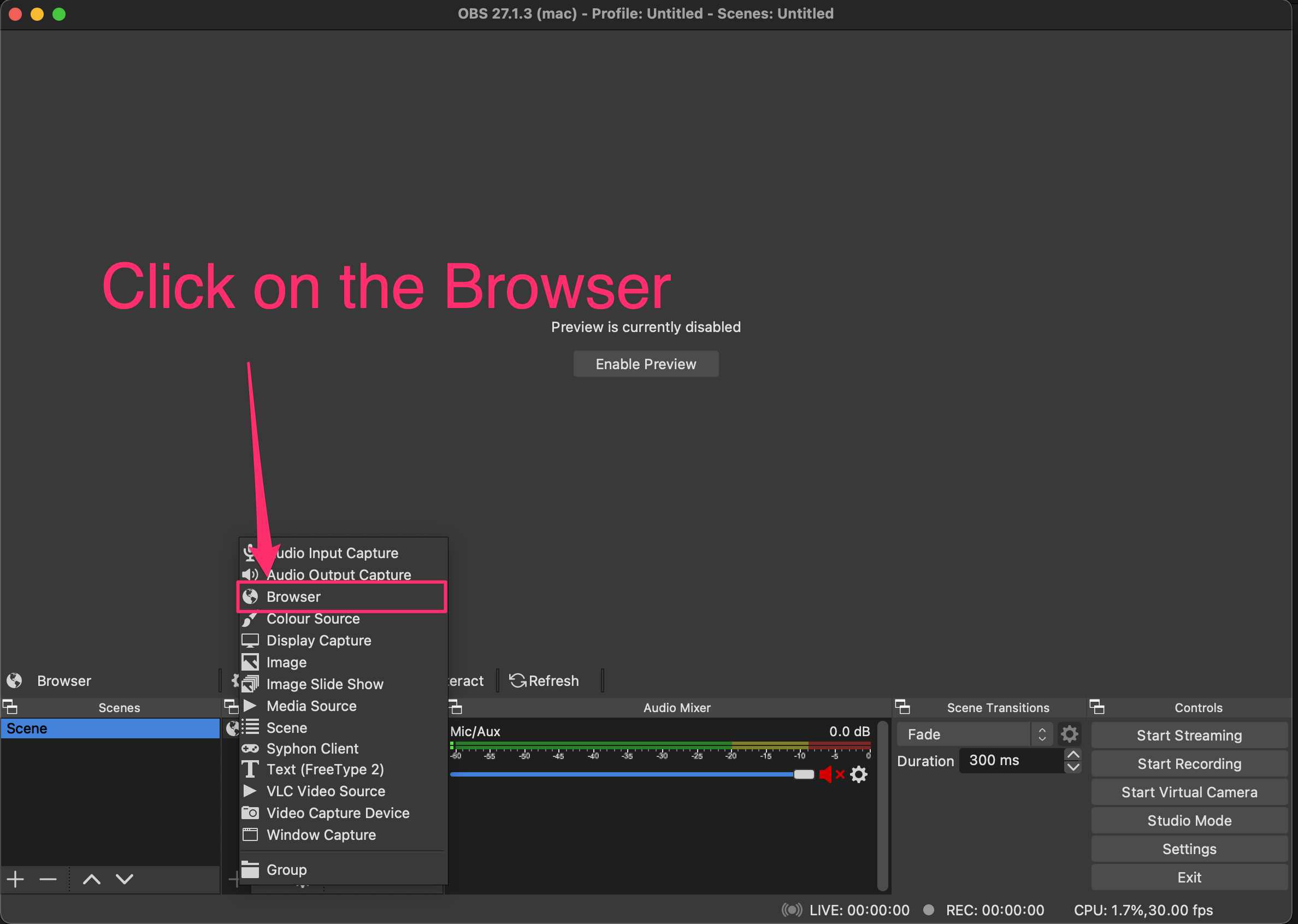 Step 10: Name the chat ( we will name it Twitch chat) and click on OK.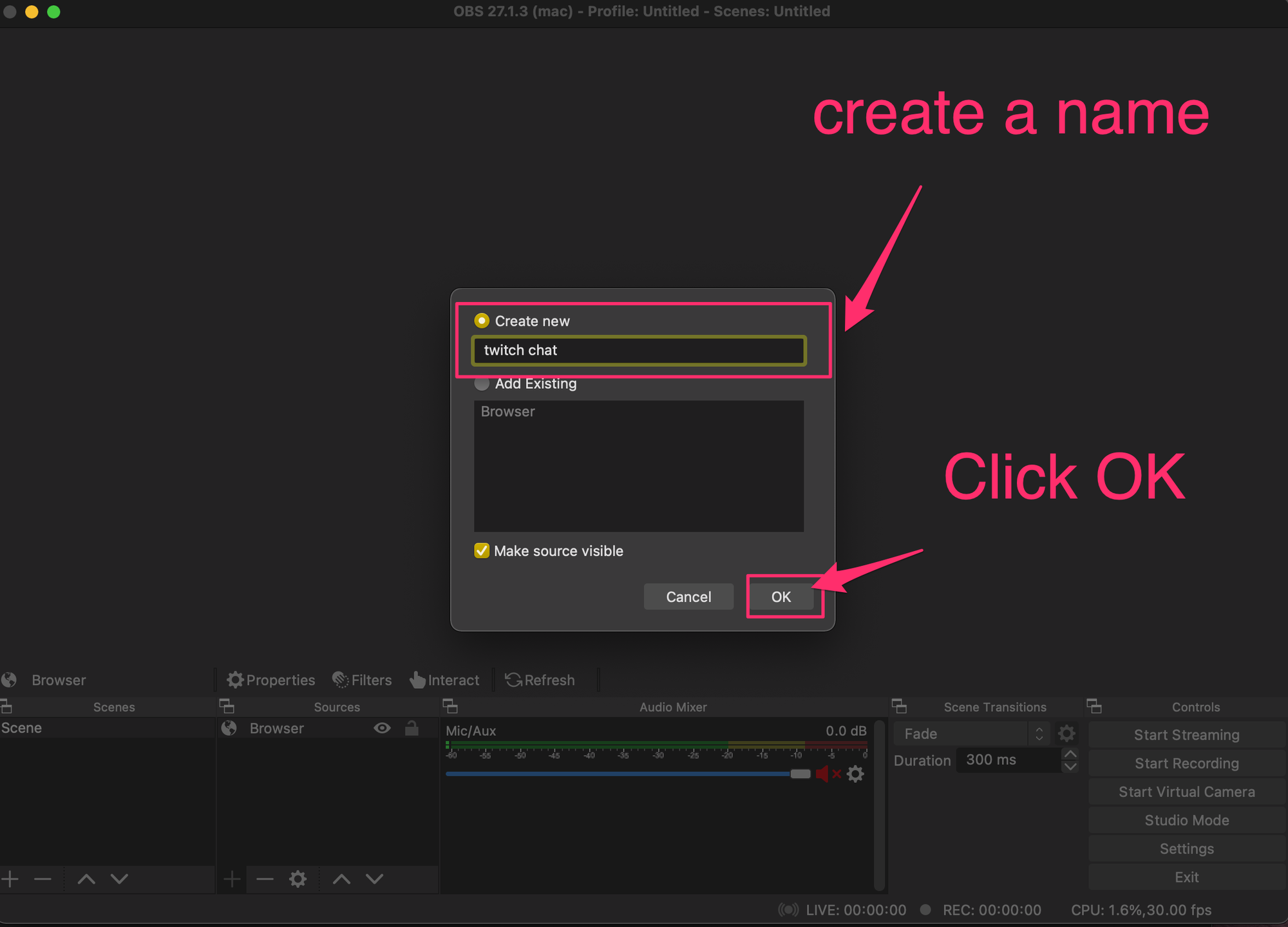 Step 11: Add the URL that we copied from the pop out stream chat and adjust the height and width of the chat here and click ok.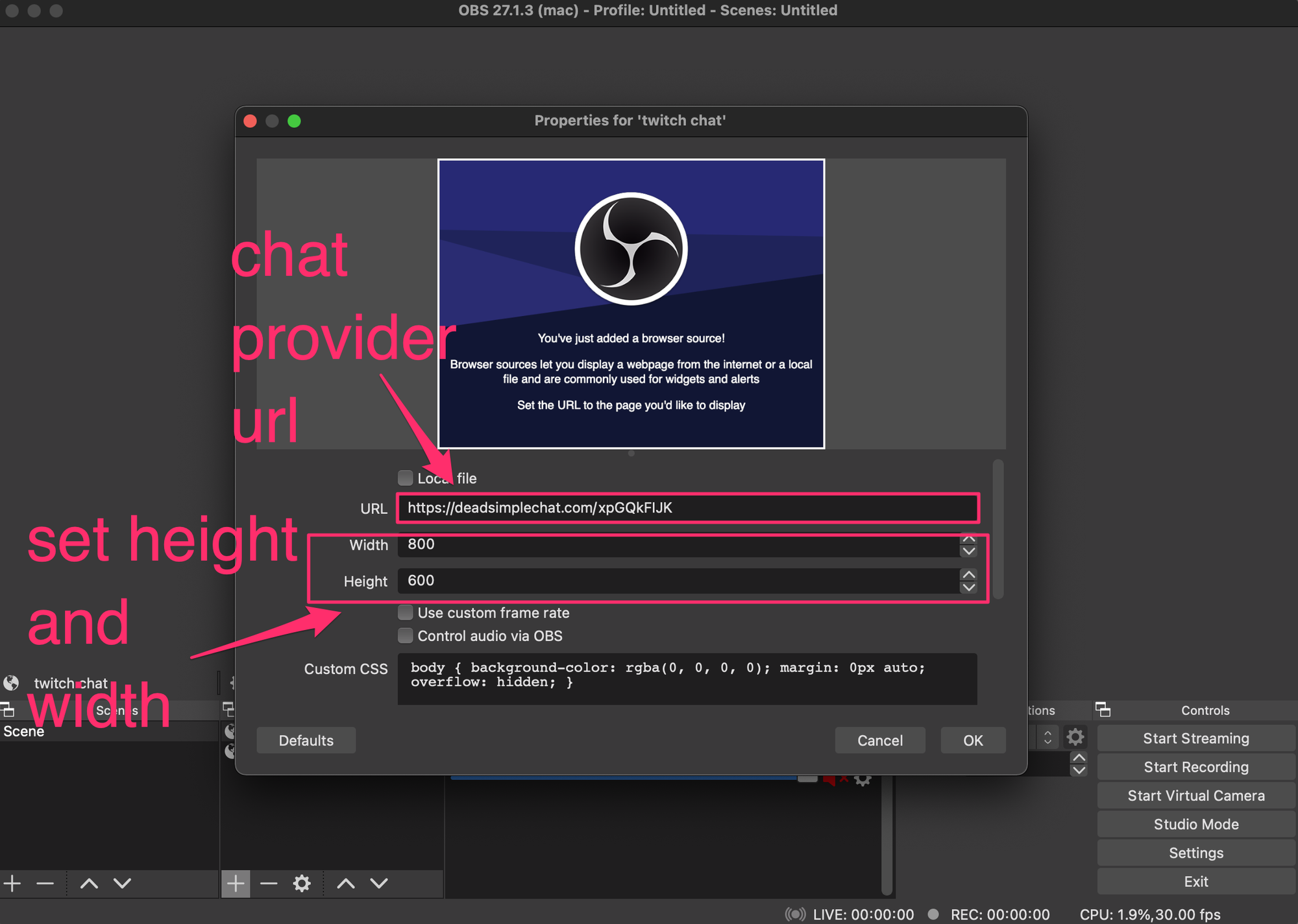 Now you have twitch stream chat added on your OBS stream
ADD Stream Chat as a Dock to OBS
Step A: take the URL that you copied in the step 6 above
Step B: click on view -> Docks -> Custom Browser Docks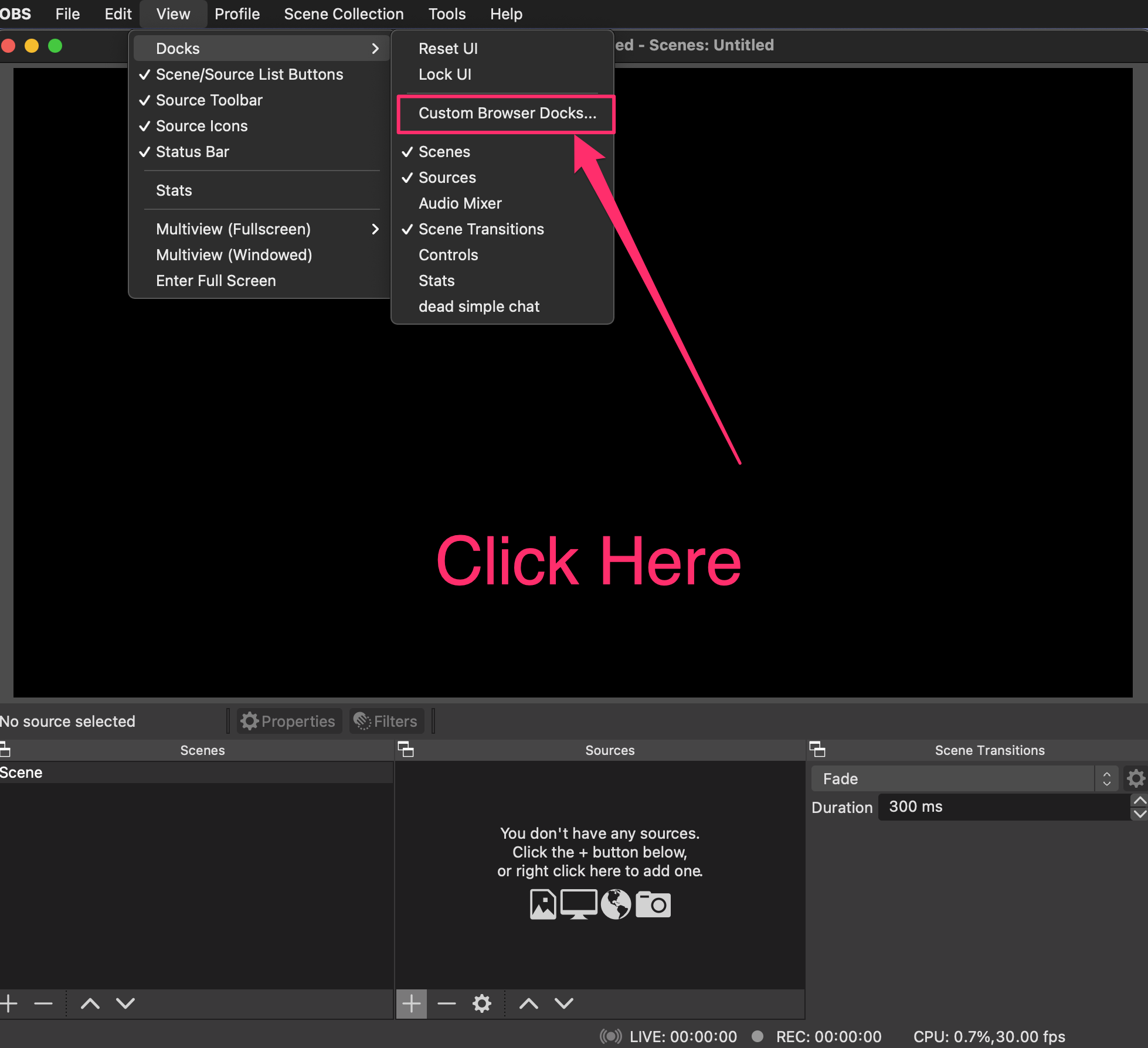 Step C: A window opens up name the dock (We will name it Twitch Name Dock) and paste the URL Copied in the step 6 above and Click on the apply button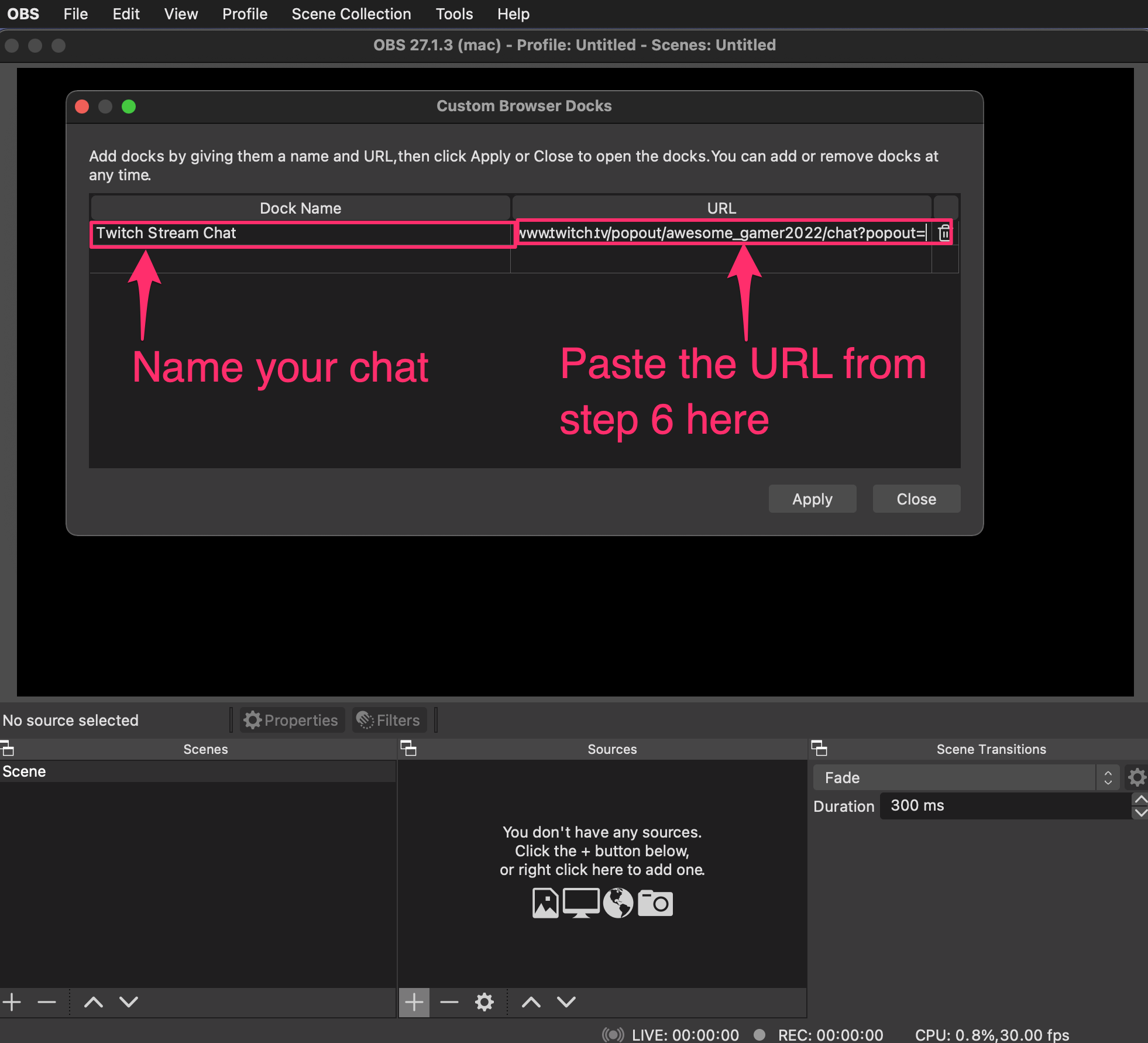 Now you have the Twitch Chat as a dockable chat. You can dock it in any section of the OBS studio software.
Conclusion:
It is easy to add any streaming chat to OBS Studio and it increasing engagement with the audiences for sure.
Adding Dead Simple Chat to your Stream is a good option if you need customizable experience and features that makes you stand out from the crowd.
DeadSimpleChat also scales upto 10 million participants so if you have lots of viewers rest assured that the chat will work always