Dead Simple Chat offers prebuilt Chat that can be added in minutes to any app or website. Can be completely customized and offers powerful API and SDK.
Adding Group Chat to WordPress is a easy process.
I will be taking you through the steps by step process so that you can have the confidence of add the group chat to your WordPress site in no time
But first let us know more about what WordPress is and How can it help us
What is WordPress?
WordPress is a CMS platform. According to WordPress.com 43% of the web runs on WordPress
WordPress is also free, you can host your website on WordPress.com for free or you can bring your own hosting provider and add your WordPress site to your custom domain
You can also host on WordPress they charge a fee
There are other CMS providers as well. Many have free plans but only WordPress allows you to have third party hosting provider and free CMS
💡
New to DeadSimpleChat?
It's a turn key chat that you can easily add to your website or App —without any complicated code. For Virtual / Live events, SaaS App, Social Platform, Education, Gaming, Finance
Sign Up for Free
What is Group Chat?
Group Chat is a chat on your website. If you conduct events and live streaming on your website then you can add Group Chat to your website
Group Chat is where your audience can come and chat with you or with each other. It is essential to keep your audience on your platform and not let them go to third party platforms like YouTube or Vimeo
Group Chat is a chat that can be added embedded along with your video live stream.
Benefits of Having Group Chat on WordPress
There are many benefits of having Group Chat on your website. Here are some of the important ones:
Increasing Engagement with your audience
Getting Feedback during an event
Allowing participants to communicate with you
Conducting Survey post event
Gauging the mood of the audience
Steps to Add Group Chat to WordPress
Before adding Group Chat to your WordPress site you first need to have a Group Chat.
For this we recommend DeadSimpleChat.
To add DeadSimpleChat to your WordPress site go to DeadSimpleChat.com
Step 1: Create a Account on DeadSimpleChat.com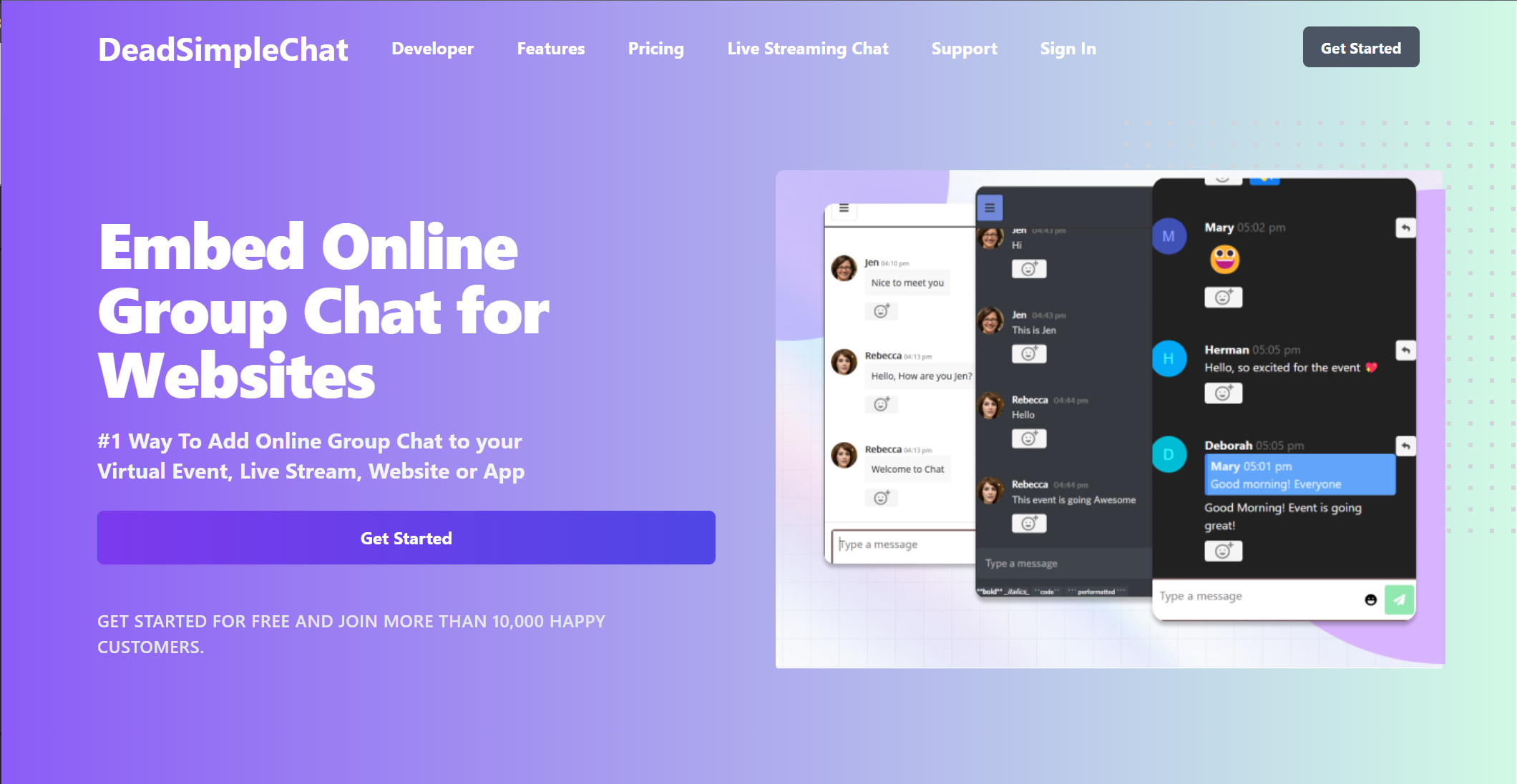 go to DeadSimpleChat.com and Click on the Get Started Button to create a account.
That opens up the sign up page. You can either signup via email or use your google account to sign up
we will be signing up via our email address. Write your email address and password in the box and click on the sign up button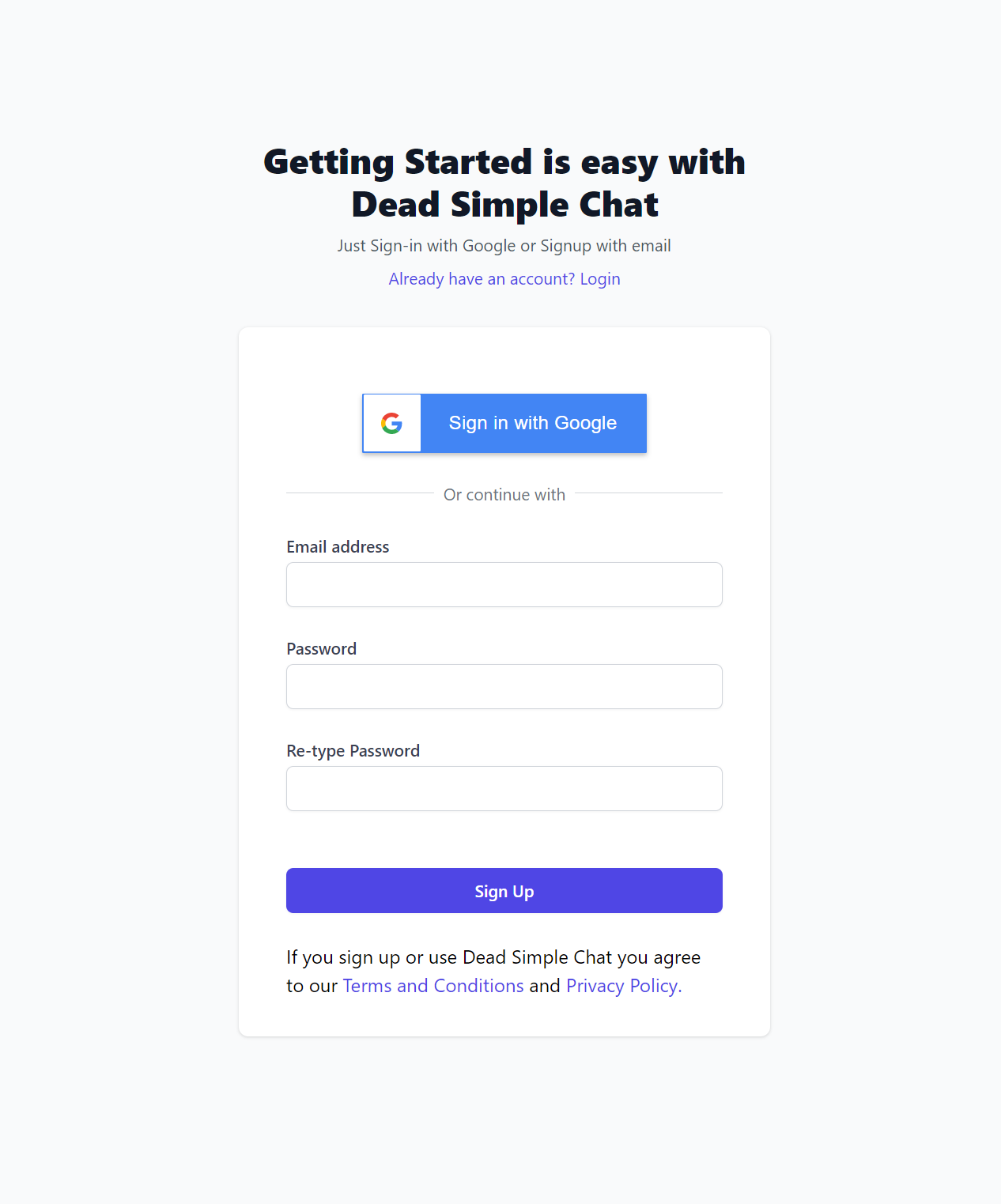 Then it asks you to verify your email. It sends you a verification pin and asks you to type the verification pin
Some times the verification pin can also land up in the junk mail, so watch out for that
If you still have not gotten the email you can write to them at: support@deadsimplechat.com and some one will help you out
We got the pin and were able to login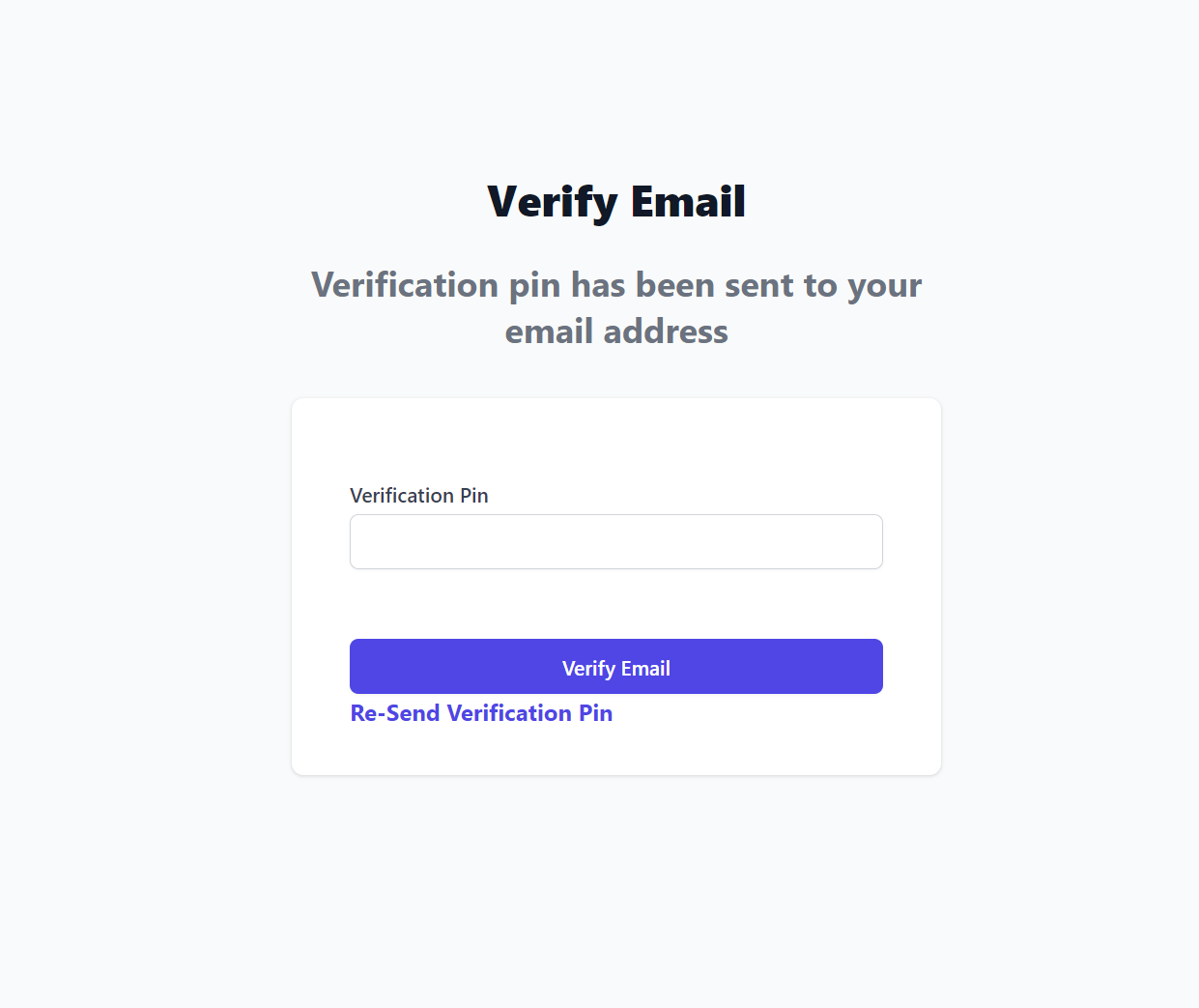 After this you have successfully created a free account with DeadSimpleChat.
This is how the new Dashboard Looks like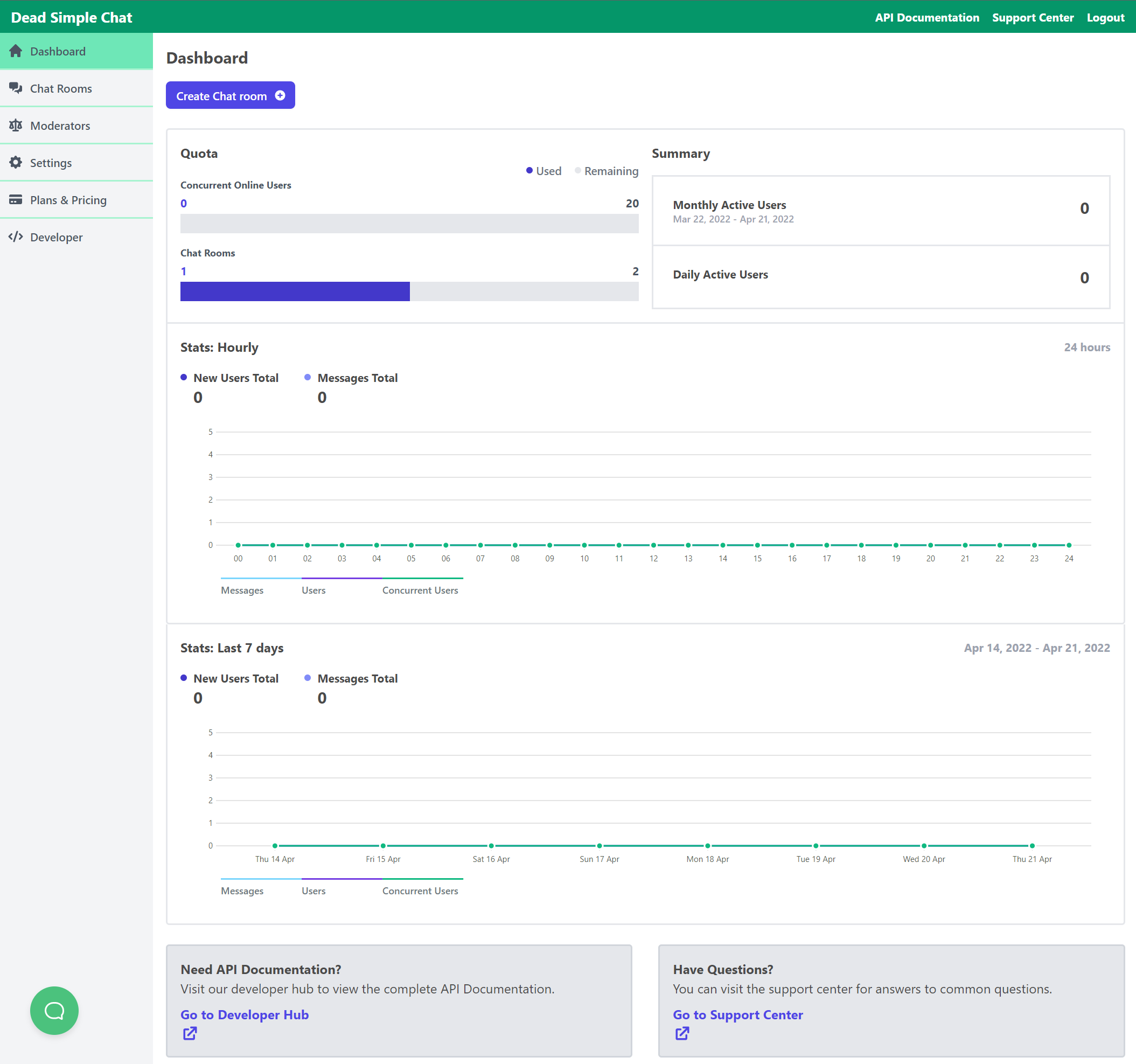 next we will be creating a chat room.
Step2 : Create a Group Chat Room
After creating an account, you will be on the Dashboard page. There you can create a chat room.
Create the chat room and fill out all the information and customize the chat room to your liking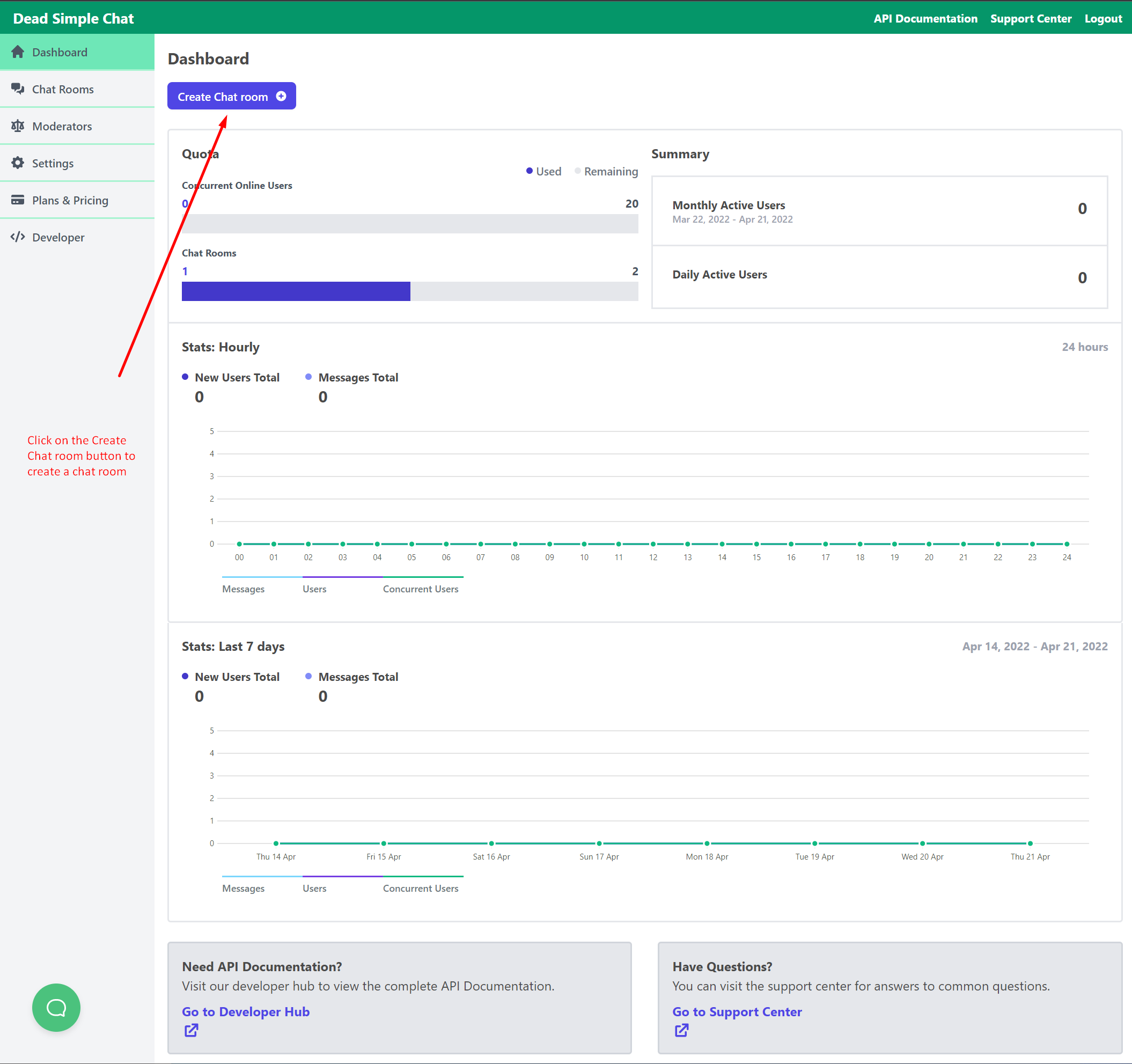 After you click on the create chat room button you land on the create chat room page here you can
Name your chat room
Provide a description for your chat room
Upload a logo (optional) The logo will show up in the header section of the chat room
Click on the save button to save the settings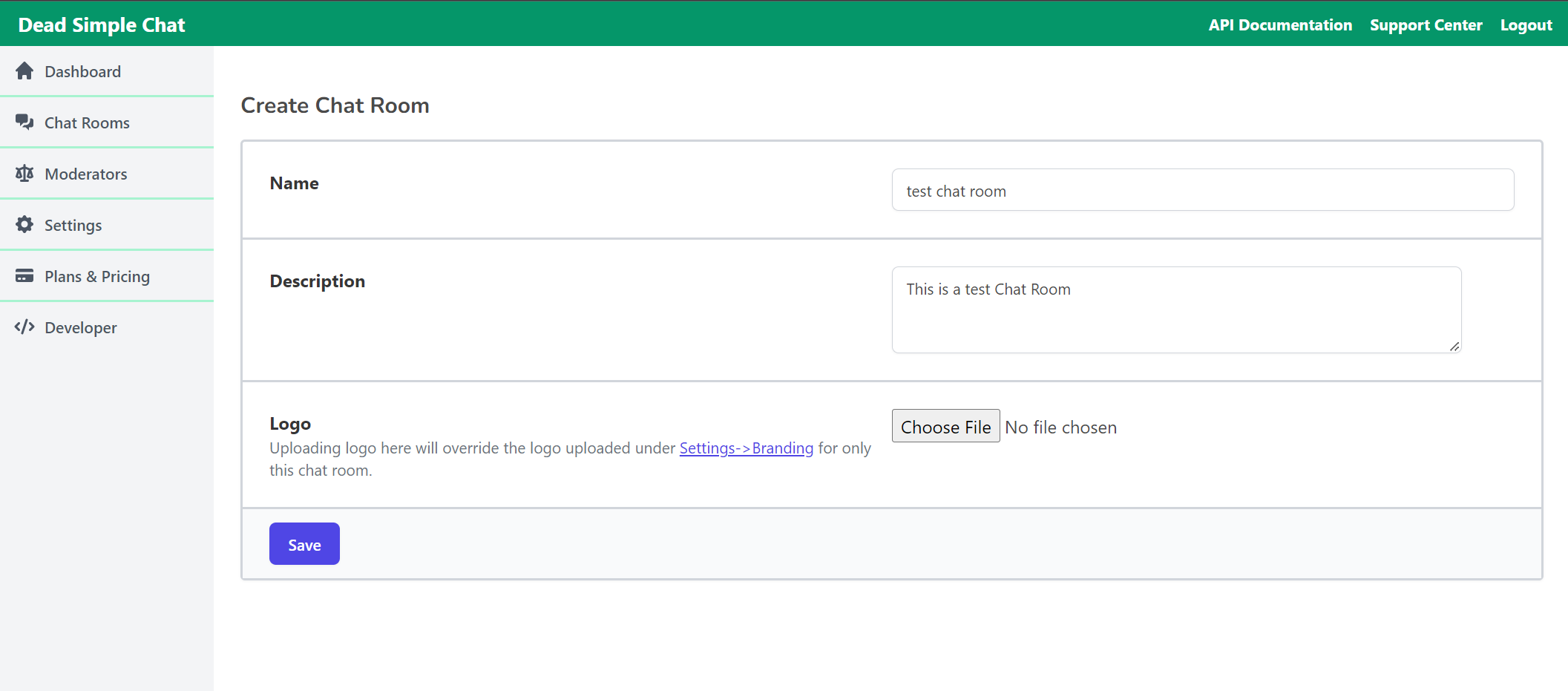 After you Chat room is ready click on the Embed Chat room section
This takes you to the Embed section ( There are a whole host of settings that you can do like customize the chat room look, create moderators and much more. But we are skipping that in this article and just focusing on how to add it to your WordPress website)
Step 3: Copy the Embed iframe.
On the Embed Info page you can set it
Embed Frame
Chat Bubble
If you want to embed the iframe you have 3 options
Large
Small
Custom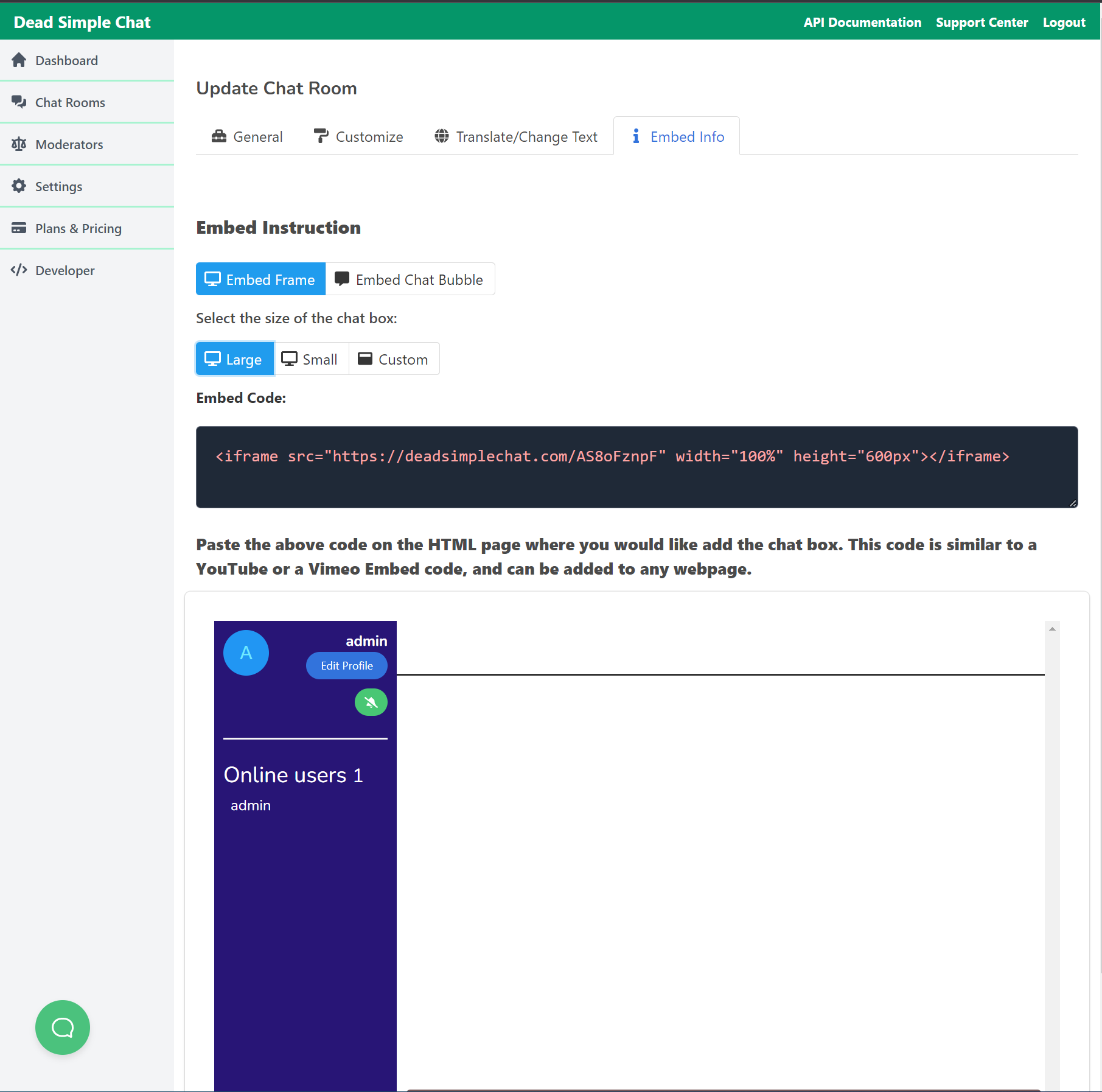 Copy the embed iframe from the embed iframe section of the chat room that you want to add to your WordPress site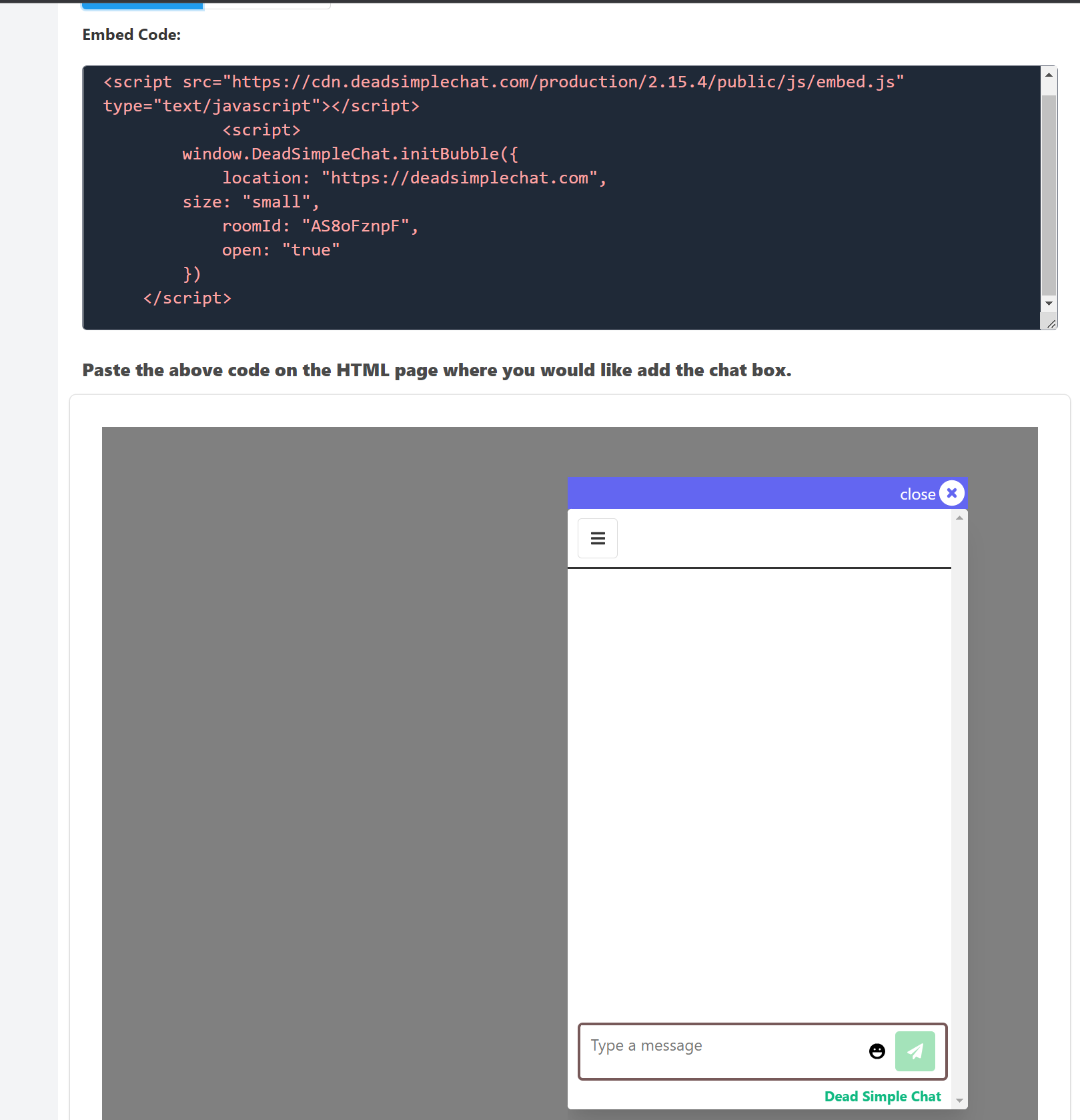 In the custom section you can edit the height and width of the chat room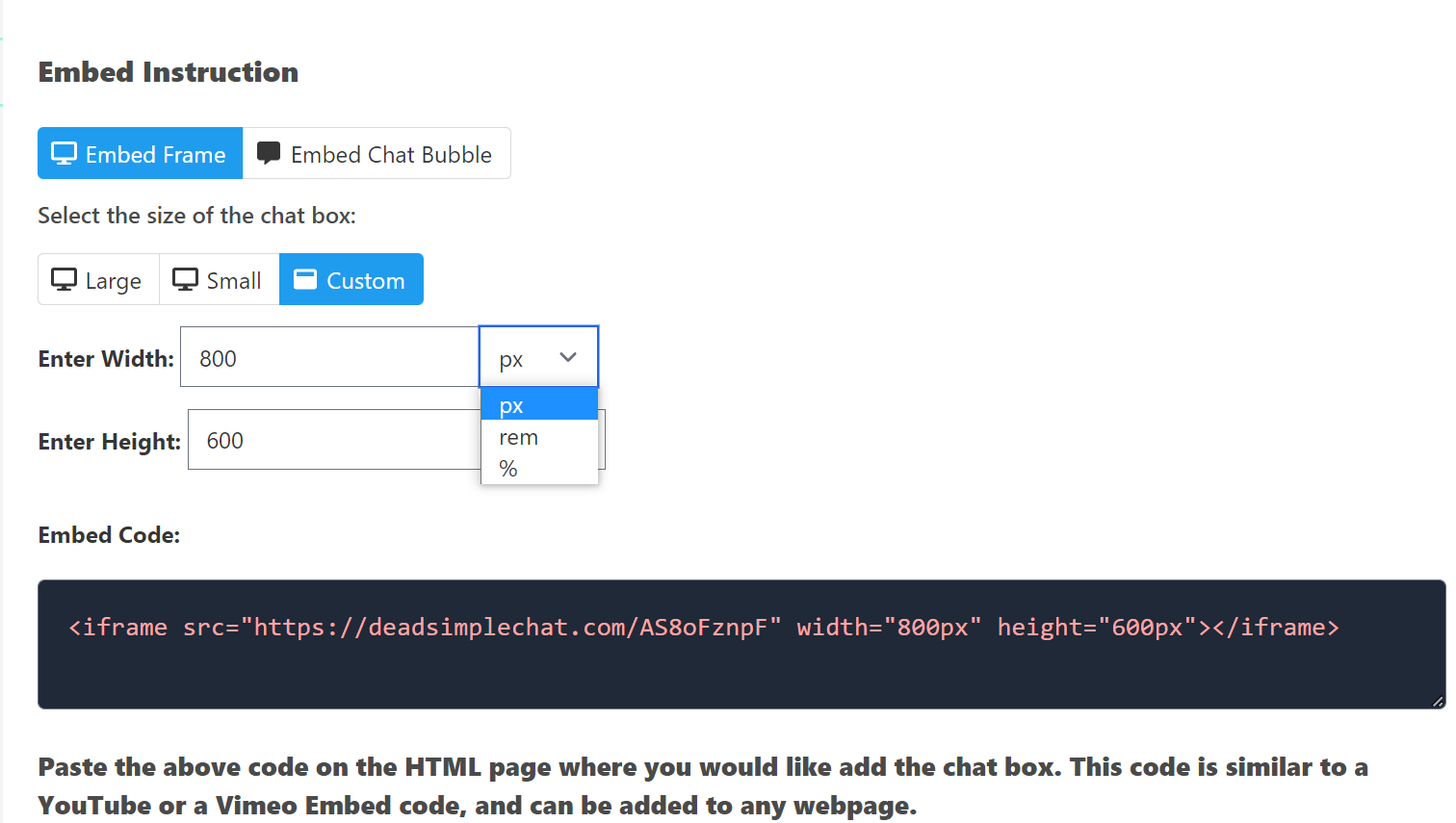 Step 4: Go to your WordPress site dashboard
Go to your WordPress site dashboard and click on the webpage where you want to add the Group Chat to.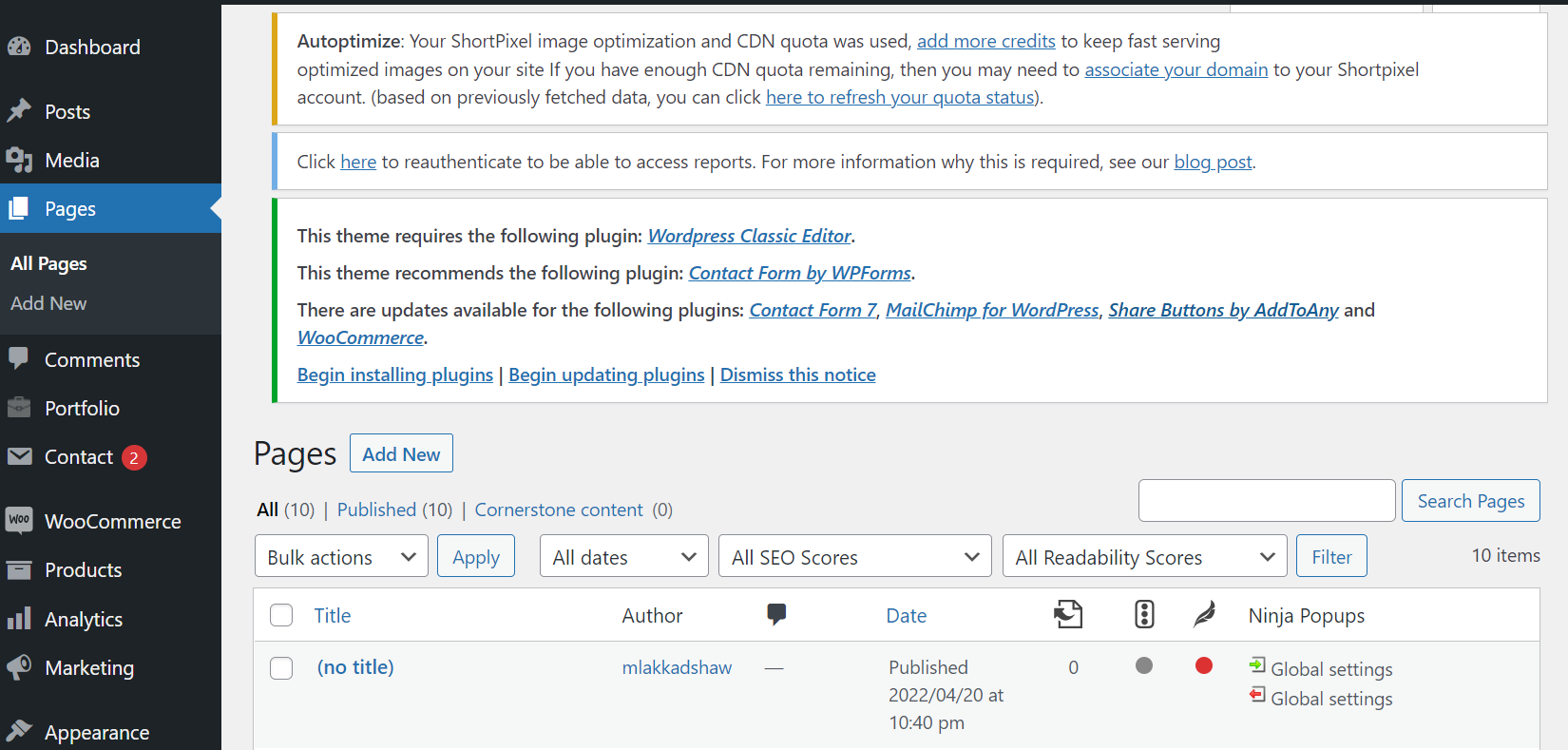 Click on the edit button to open the WordPress editor.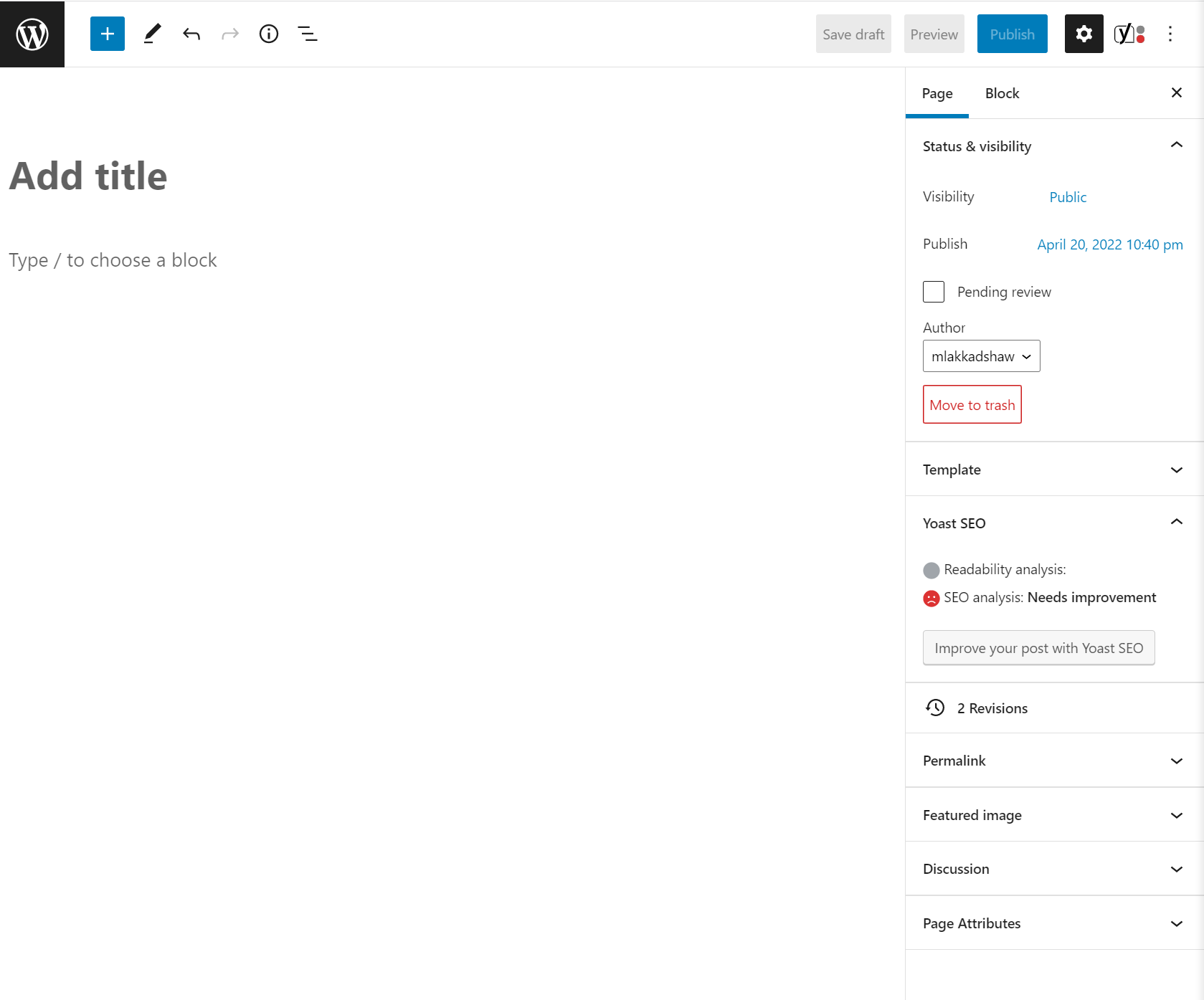 Step 5: Navigate on the page where you want to add the Group Chat
You want to add the group chat on a specific page where your users will be there. Navigate to that page from your WordPress Dashboard
After Navigating select where you want to add the Group Chat box.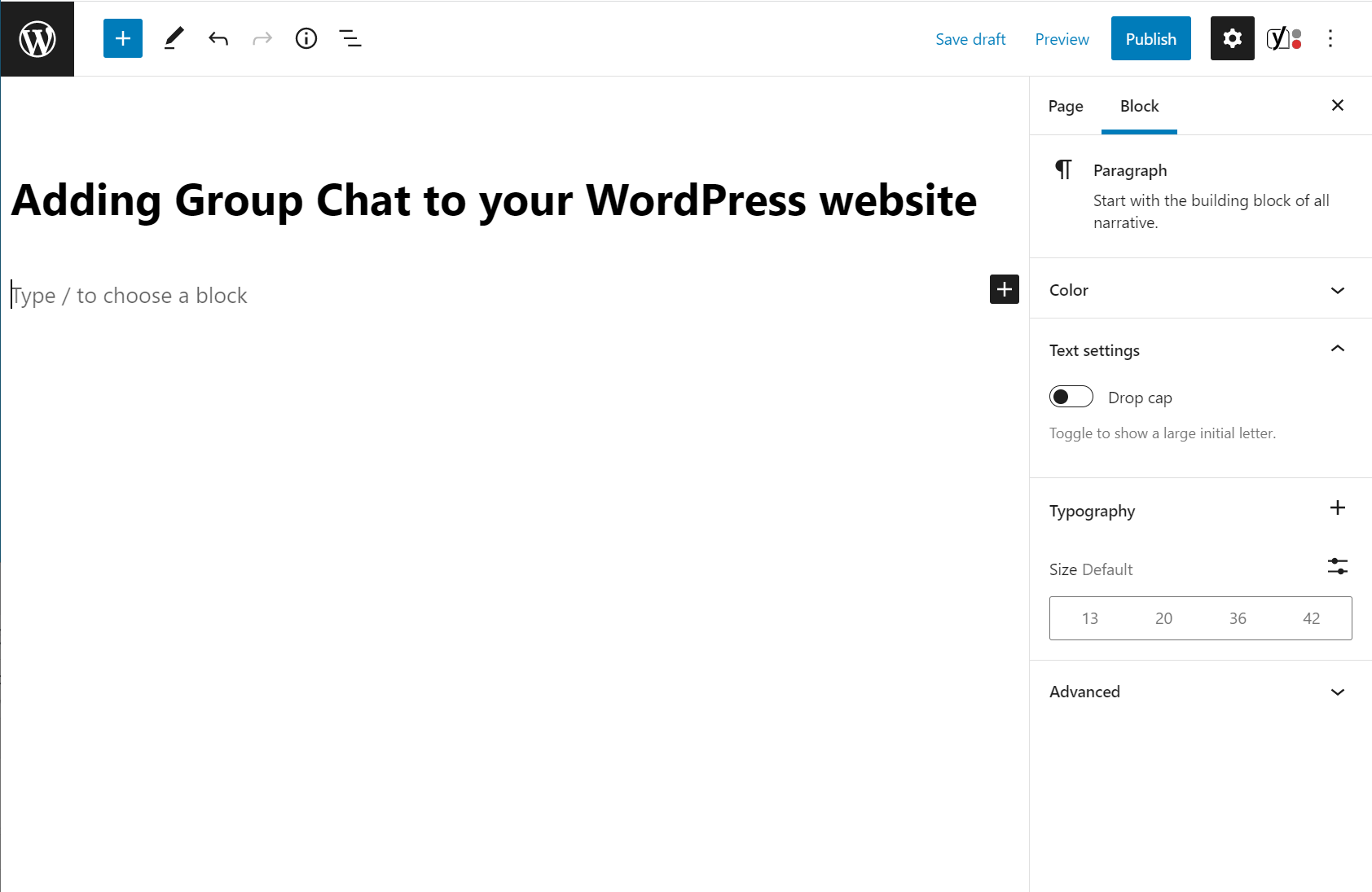 Step 6: Click on the add block button
The place where you want to add the group chat box click on the add block button in the WordPress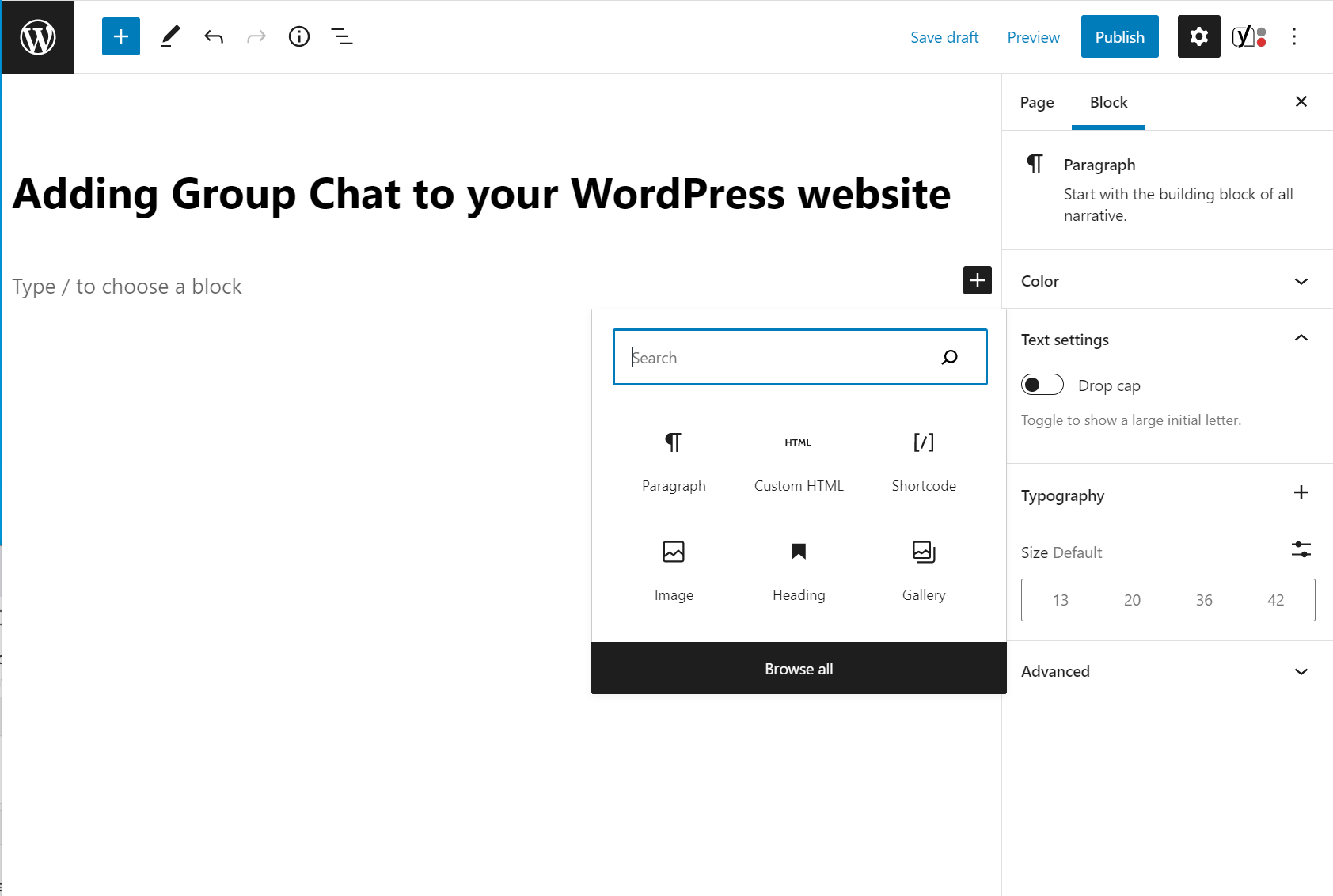 Step 7: Search for the Custom HTML Block
A box will open where you can select multiple types of blocks like
Here search for the Custom HTML box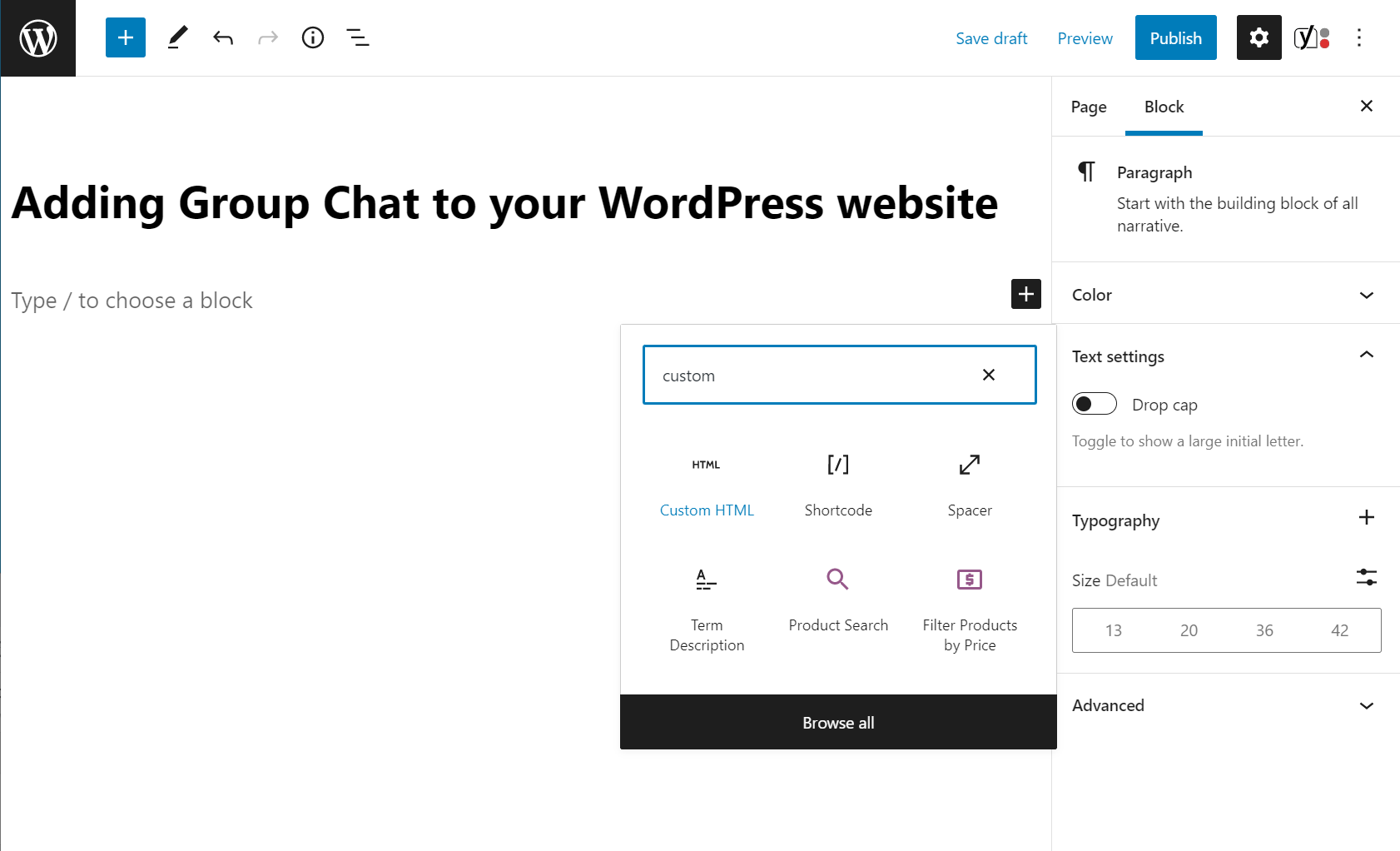 Step 8: Click on the Block to add it to your site
Select the Custom HTML block to add the block to the place where you want the chat to appear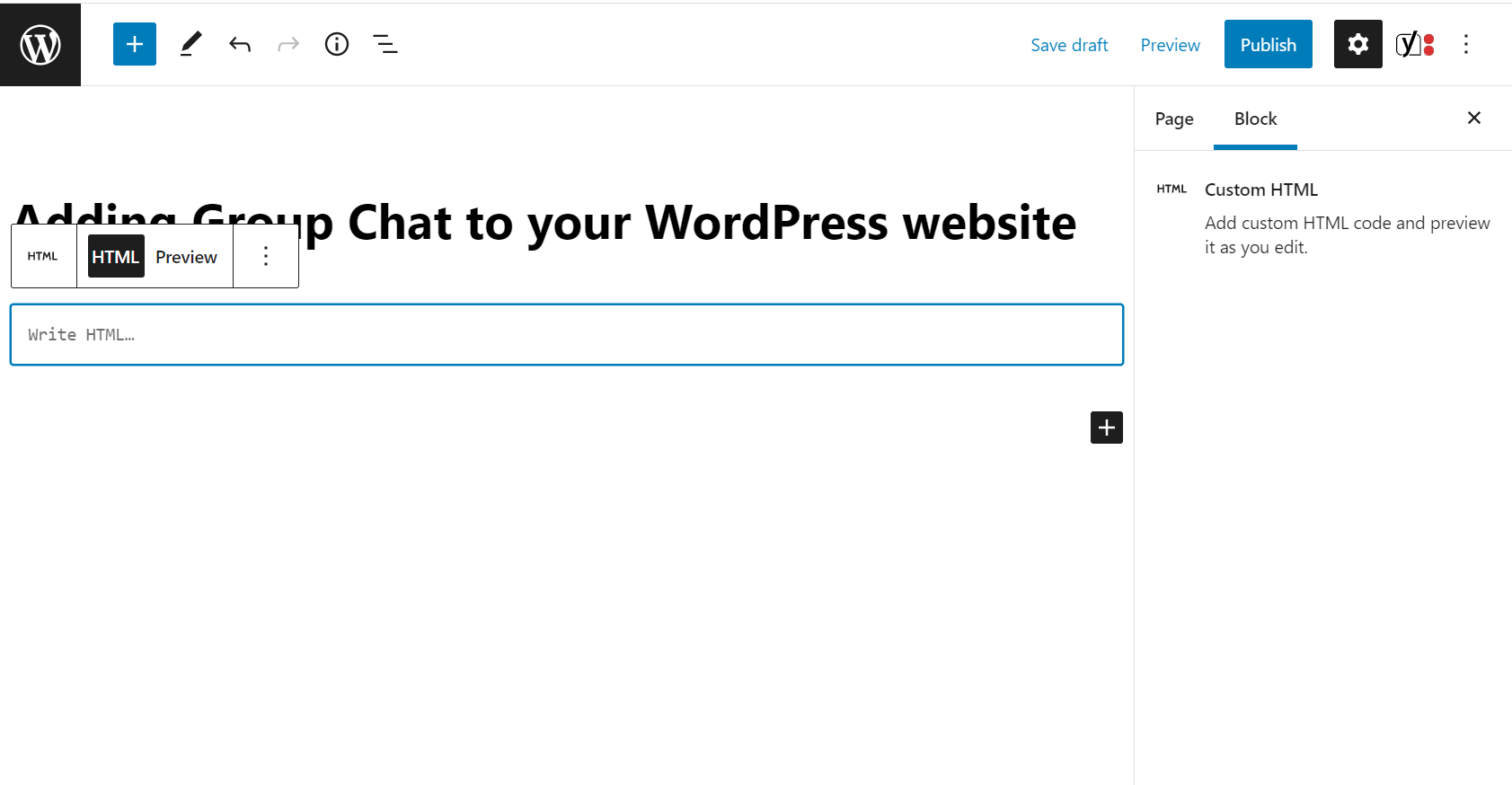 Step 9: Paste the iframe embed code that you copied in the Step 3
Paste the iframe embed code that you copied in the step 3 in the Custom HTML block and that's it you have added the Group chat to your WordPress site
and that's it you have added DeadSimpleChat to your WordPress website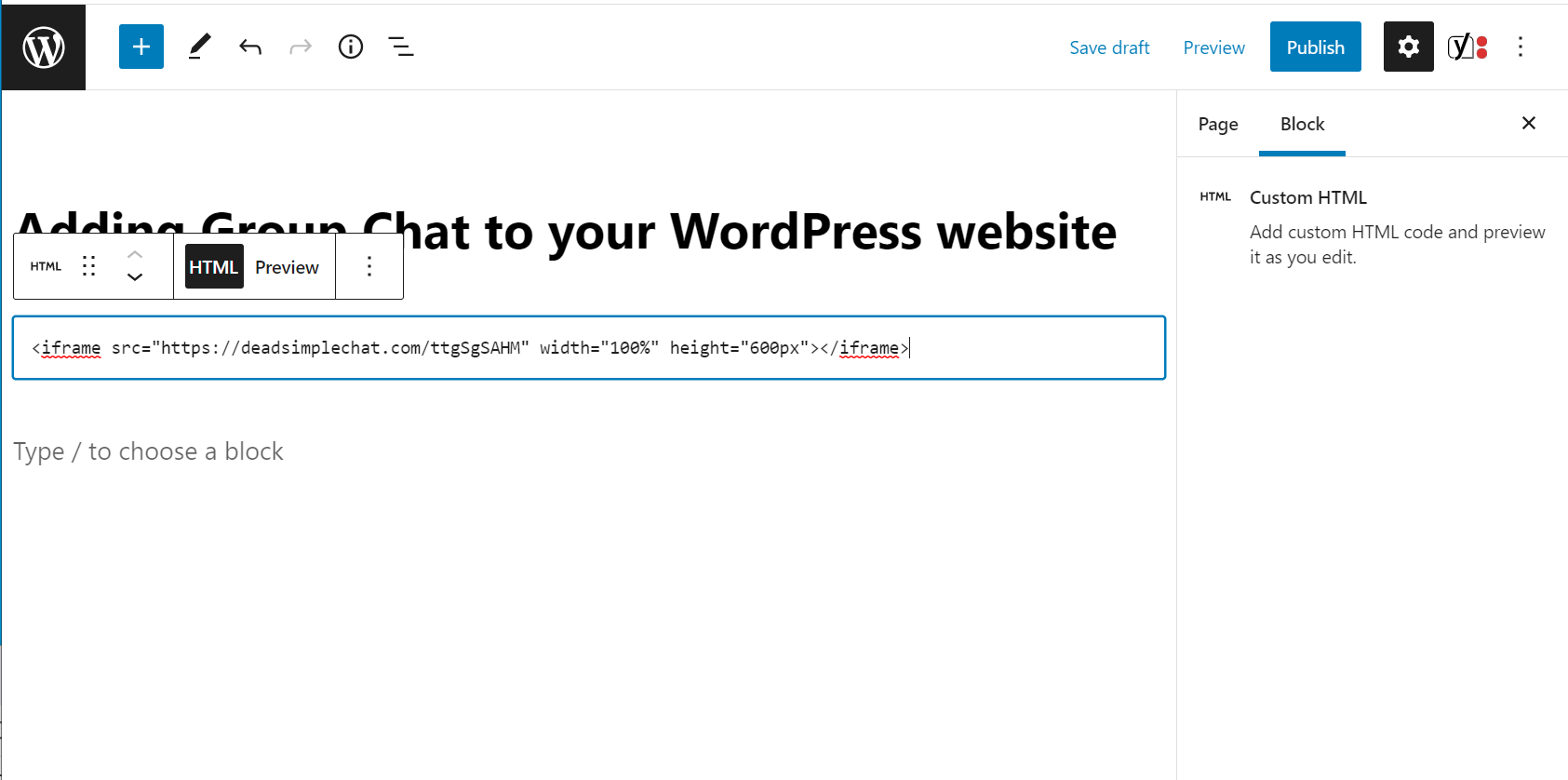 The Final result
Now you have added the Group Chat to your website. Here is how the Final result looks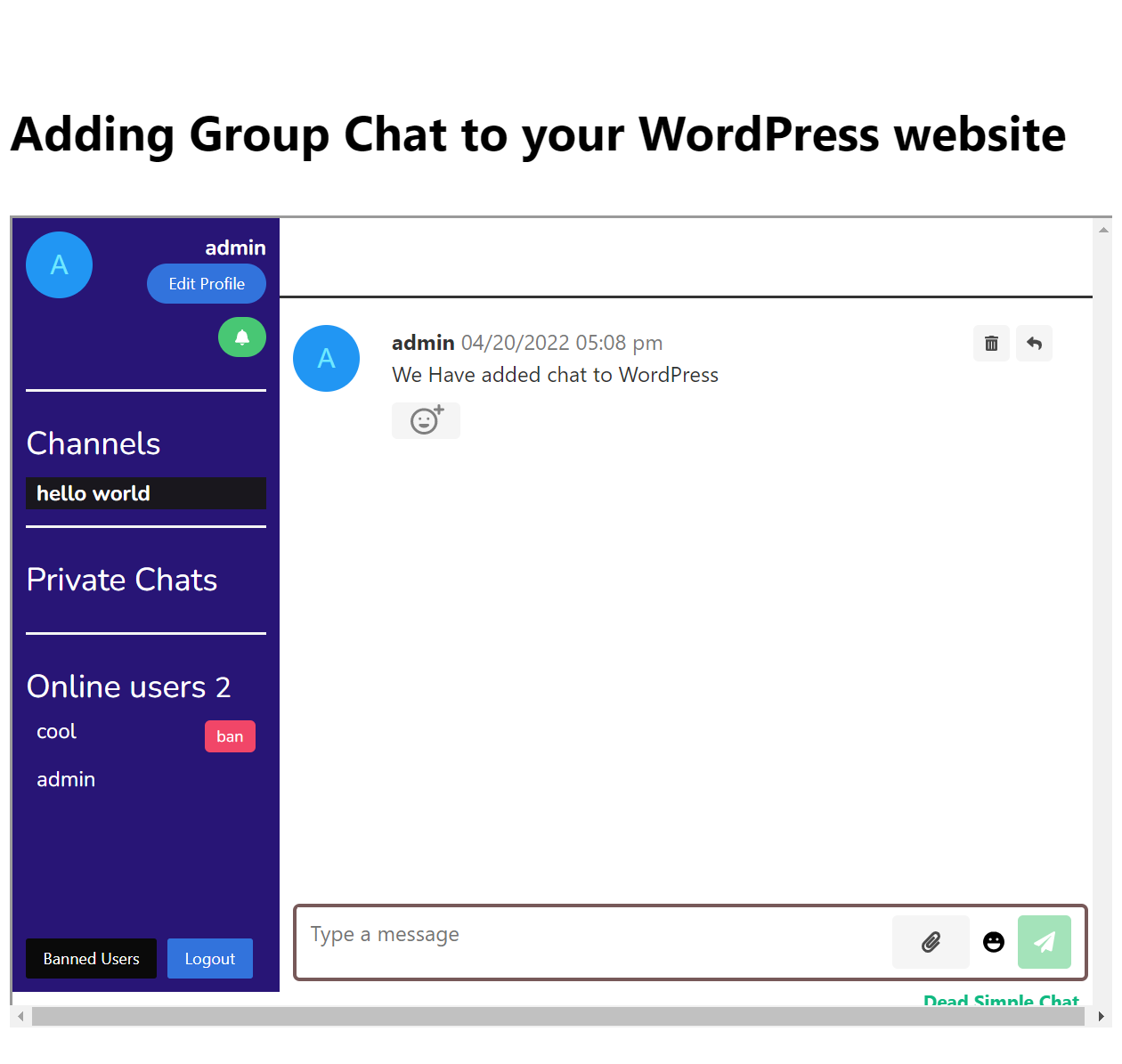 Important Features that should be in any Group Chat
When deciding adding group chat to your website. You should consider a what features will be necessary
Here is a list of Features that DeadSimpleChat Offers. DeadSimpleChat is a Group Chat that is designed for events and community chat
Up to 10 million concurrent participants
Fully customizable look
Easily embed next to video stream
Group Chat
1-1 Chat
Moderation
Ban Participants
Ban Bad words
Delete messages
Create Multiple Moderators
Create Channels / Sub Rooms inside chat rooms for different topics
Image Sharing (Enable disable upto admin)
File Sharing
Translate Chat interface into multiple languages
Single Sign On
Analytics
Q&A Mode
Works with any website or CMS platform like WordPress
Phone Support
Email Support
Export all messages
Export all images and files
Password Protect Chat
Create Custom Bad Words
Highly Scalable chat
Highly reliable with 99.99 Uptime
Chat Platform APIs
Write Custom CSS
Conclusion
In this article we learn about how to add group chat to WordPress. Let me know what you think about the article in the comment section below
Adding Chat to WordPress is very easy and good tool to increase engagement on your website.
Community chat, Live Event Chat and Virtual Event Chat are some of the examples where DeadSimpleChat can be used.